I arrived back from Dallas late last night, after an uneventful flight.
While in Dallas, I decided to re-visit the site of Kennedy's assassination. I had a very good reason to do so: I wanted to photograph the actual school book depository this time.
You know, when you stand on that corner, there is a very prominent red building that looks just like the place: it's on the corner, it's red brick, it even has a museum store at its ground floor. Nonetheless, it's not the building you are looking for. 501 Elm Street is not the former school book depository; it is called the Dal-Tex Building, and except for some conspiracy theories, it has nothing to do with Kennedy's murder.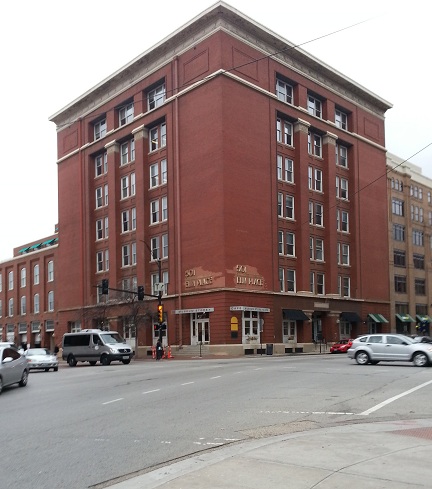 No, the right building looks a lot more inconspicuous from street level, hidden by some large trees.
The place where I was standing was in fact the very spot where Kennedy was hit. Or rather, the sidewalk nearest to the spot; I didn't think it would be a good idea to try to stand in the middle of a traffic lane. In any case, while a small white X does mark the spot on the asphalt, there is an actual plaque next to the sidewalk that is a tad more informative.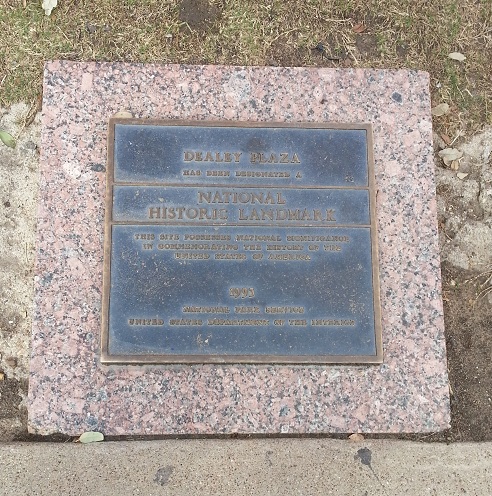 While I was walking towards the Kennedy site, I saw some strange buildings. In fact, I noticed them the previous day already, but as I was trying to hide from the occasional squalls of rain, I took no pictures then. Amidst well maintained office towers, sparkling clean streets and whatnot, I was confronted by the sight of several entire office towers that were empty and abandoned.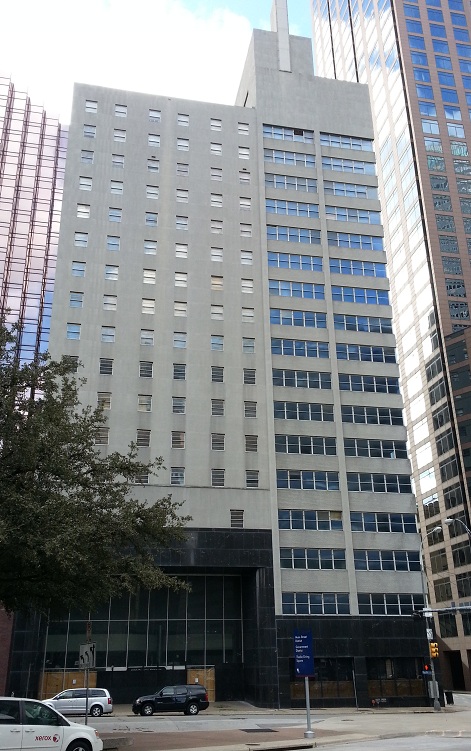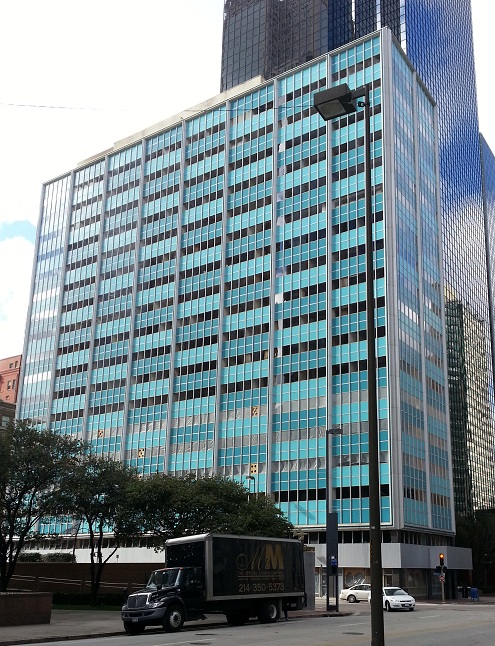 Weird. Is this a sign of a bad economy hitting Dallas, or just the normal fate of office buildings past their prime, waiting for orderly demolition?
And on my way back to my hotel, I saw something that made me laugh real hard. Wednesday was a cold day by Dallas standards, only about +10 degrees Centigrade, and a strong wind on top of that. The few people who braved the sidewalks looked like they were dressed for an arctic expedition. (I was just wearing an ordinary man's jacket. I wonder what they thought of my attire.) So I was walking down this street and suddenly, I came across this bunch of flying rats, I mean city pigeons, huddling on a grating embedded in the sidewalk, which was presumably venting warm air.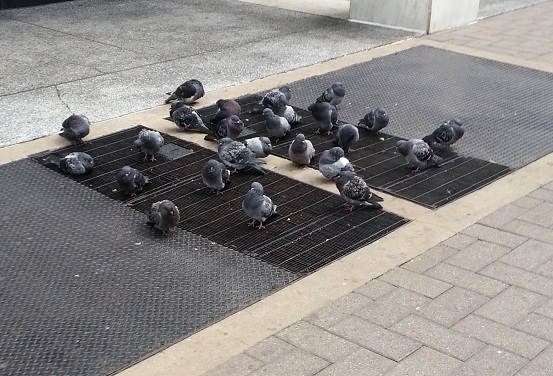 A pity that there were no stray cats nearby.
Anyhow, my talks delivered, my meetings done, I was ready to fly back to Ottawa, which I did in due order, arriving home at the not altogether ungodly hour of 11 PM, allowing me to enjoy a good night's sleep in my own bed for a change.