My high school classmate György (Gyuri) Matavovszky spent the last almost 17 months volunteering for the Red Cross, helping Ukrainian refugees. Without further ado, with his permission, here is an English translation of his latest Facebook post, which sums up his experiences and his personal journey, while also revealing a lot about the sociopolitical environment in which he lives in present-day Hungary.
---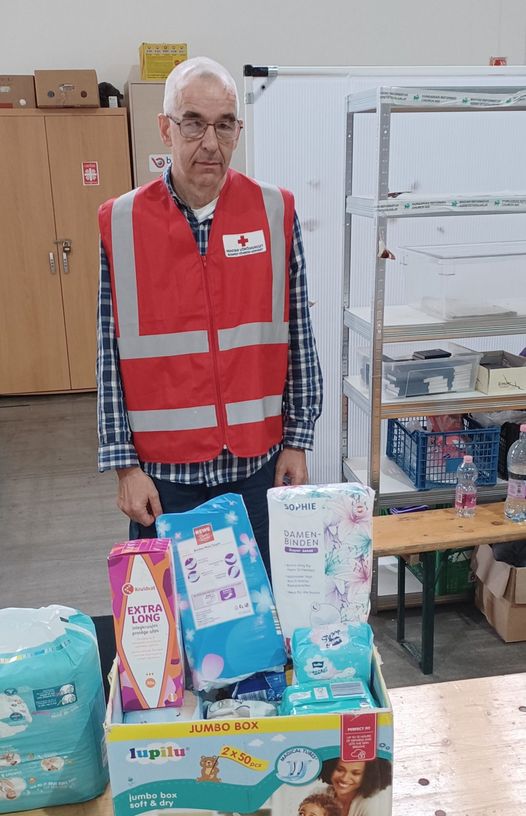 I shall now take off the Red Cross vest that I first put on 503 days ago and have worn for about 50 night shifts since then. The Hungarian government is closing down the aid point set up at the BOK Hall due to the war, where newly arrived and other homeless refugees from Ukraine could come until now and receive very modest care, minimal food and drinks, hygiene facilities, camp beds with bedding in a communal sleeping area for one, in some exceptional cases two-three nights (since life in Hungary is so good that everyone's situation surely gets resolved in one-two days, so no one needs to stay longer).

The hall opened for this purpose at the end of March last year. Back then, aid organizations and representatives of various other bodies were moved here from the train station. There was a children's corner, doctor, pet care, child welfare services, ticket office, mental health support, shuttle buses ran hourly between the train stations and the hall, 1000-2000 people came through here daily back then, who were very easy to provide for initially, as we received huge amounts of donations. The number decreased exponentially, but willingness to donate even faster, so we soon reached the point where rather than abundance, it was need that made things difficult for us. Then everything slowly shifted to a lower gear, for example in November the medical care was also terminated, which I know because I had to accompany a sick person to the Military Hospital, and wait with them from 11pm to 3am for the four hours the Hungarian healthcare system needs to carry out a routine examination. In February, I was a hair's breadth away from someone dying in front of me. I failed to recognize the signs of a heart attack in a refugee who arrived across the green, or rather blue, border (the Tisza River) – luckily a colleague of mine was more alert and called an ambulance just in time. In the end he survived, now he lives with his family in Győr, has a job too, we know about him.

But this is just one example, because there were many other very difficult situations, too. It wasn't just the arrivals from Ukraine that were problematic, we Hungarians often didn't get along easily either, there was tension even among the volunteers at times. Is it okay to give coffee in the middle of the night—this remained an eternally returning question that still has no consensus answer. Because if we give it, they get more lively and won't let the others sleep, or make more demands of us, too. But if we don't, we deny them the one joy they may have that day. We too often lost patience, but I won't focus further on the downsides of our performance. On the very first night I decided that I'm not here to help the refugees, but they are helping me, and I stuck to that pretty much. I accompanied some of them to trains, planes, airport buses, when that was the simplest or most humane way to give directions. In the process, I always developed a connection with them that could no longer be let go of without tears—the worst is when you stand on the platform, hugging them and they hug you too, and you both know you will never see each other again. These moments were always unbearably painful.

The nights had their own arcs—the shift started at 8pm, by midnight we only felt like we were getting into it, by then we were usually tired enough to start feeling a bit numb from it. Somewhere between 2 and 2:30am was the low point, from when the mental state tips over, you start to feel the dawn coming, and this generally calms you down too. The second half of the night was always much easier, and in the morning not only does the sun rise outside, your heart is flooded with light inside too – I always left tired but with great peace in my heart – I will miss this feeling a lot.

Let no one think the BOK Hall is closing because the war is over and there is no more need for it. The war is not over, the BOK Hall would be needed, but the community is poor, I mean there is very little good intention in the budget, we are completely exhausted morally, in character, currently at rock bottom, though I've written a lot about this before. There will be something, somewhere instead, but it will be operated by the pro-government Maltese Charity Service, and for sure it won't be worth even this much. I won't participate because I'm not Catholic enough and anyway I'm sick of the whole thing. I was sick of it before too, but the Red Cross supervisor kept my spirit up, his name is Gyuri too, we could never decide whether I'm one and he's the other, or vice versa, I think it's the latter actually, in my phone he's saved as Egyik Gyuri (Gyuri One).

I don't want to be without social work long term, I hope one day I'll wear a Red Cross vest again, I hope not too long from now. Now I need to pull myself together for mural painting, but if I can get that going maybe I'll have time for something similar again. I don't want to be a social worker, but from now on I want something like this always to be part of my life, because meeting unfortunate people results in a fantastically intense wake-up call, and I think in the long run it really helps staying awake. For example, you understand that they often live a much more real, much more honest, much more self-consistent life than us, who collect a pile of assured money every month, which we then spend floating in a beautiful bubble.

There is a lot of cognitive dissonance in the Red Cross too, but still it's far from the worst organization in the world, its past shines through its present a bit, in my work I managed to meet exemplary people, including some much younger than me who can behave very consciously, very maturely in trying human situations, and in whom I see a lot of potential still. As I look at it, this hidden potential will be needed sooner or later, or rather is needed now, it's just very hard for the penny to drop, it's very hard for us to notice this spiritual need.

I won't beat around the bush, before the war I too spent my days in deep slumber, and I still don't feel fully awake. However, I very much hope enough bridges have burned behind me that I won't be able to flee back to where I was living before. In this service ending now, I feel the next personal message from life: Gyuri – one or the other, doesn't matter – You are mature enough now, You don't need to do this anymore, because with what you've done so far, you've detached yourself enough from your previous mode of existence, you've gotten from A to B, and even if you don't see filthy, dirty refugees around you for a couple months, you won't slide back to where you were before. Yes, I feel this whole thing was an initiation, a tangible step on the path to becoming human, which I desperately needed, and by some miracle this time I didn't brush it off with some stupid response, as I've done countless times before, but this time not. This is what war does!