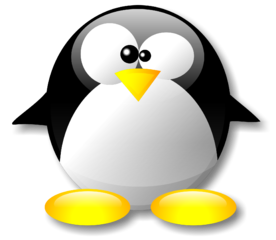 It was 25 years ago today that a Finnish chap by the name of Linus Torvalds made an announcement about a new operating system that he developed in the preceding few months. Nothing big and professional, he assured us, just a hobby project basically… but here it was, and he already got a command shell and the GNU C compiler working.
I have been using Linux for 23 of those 25 years. I became familiar with Linux when I took over sysop duties of the UNIX forum of the long defunct NVN (National Videotex Network).
I no longer have the original SLS (SoftLanding Linux) floppy images, though I am pretty sure even without checking they can be found in several archives online.
But I do have the announcement that I posted on the NVN UNIX forum page almost exactly 23 years ago, on September 1, 1993:
Welcome to the LINUX distribution on NVN!

The UNIX Forum data library now contains the complete set of files
making up the Softlanding Software (SLS) distribution of LINUX, the
popular *FREE* UNIX operating system clone.

The files are the most recent (version 0.99 patchlevel 12) as of
today, August 28, 1993.

The files were used by the UNIX SysOp to install a complete LINUX on
an 80386SX20 PC, with 4 Mb of RAM, a 68 Mb and a 42 Mb MFM hard disk
drive, an ATI VGAWonder super-VGA card with 512 kb video RAM, a
Microsoft mouse, a 5.25" high density floppy drive, and a 3.5" high
density drive, and an ATI2400etc/i internal modem. Brief assessment:
it works like a charm. So well, in fact, that I decided to keep it
and permanently convert my old 386SX to a LINUX host. I am already
using it as a dial-in system for my friends and business associates.

The files in this distribution are:

readme.sls this file
sls_info.zip miscellaneous text information files
rawrite.zip needed to create the A1 bootable LINUX disk
sls_a1_3.zip bootable floppy image for 3.5" 1.44 Mb drives
sls_a1_5.zip bootable floppy image for 5.25" 1.2 Mb drives
sls_a2.zip Minimum base system
sls_a3.zip
sls_a4.zip
sls_b1.zip Base system extras
sls_b2.zip
sls_b3.zip
sls_b4.zip
sls_b5.zip
sls_b6.zip
sls_b7.zip
sls_c1.zip Compilers
sls_c2.zip
sls_c3.zip
sls_d1.zip Documentation
sls_d2.zip
sls_s1.zip Essential component source
sls_t1.zip TeX
sls_t2.zip
sls_t3.zip
sls_x1.zip X-Windows
sls_x2.zip
sls_x3.zip
sls_x4.zip
sls_x5.zip
sls_x6.zip
sls_x7.zip
sls_x8.zip
sls_x9.zip
sls_x10.zip

All the files named sls_Sn.zip must be uncompressed under DOS and
copied onto separate floppies. The bootable LINUX floppy (disk A1)
can be created from sls_a1_3.zip or sls_a1_5.zip using the RAWRITE
program, supplied in RAWRITE.EXE.

It is suggested that you download sls_info.zip first, for additional
information. The files in this archive are text files readable under
DOS (lines end with CR/LF instead of LF only as they do under UNIX).


Please note that while the NVN UNIX does not (indeed, cannot) provide
support for LINUX, I will be glad to answer any of your questions. 
Also, if you are interested in a specific program, application, or
information file that is not included in the present distribution,
please let me know and I will see if I can obtain and upload it. If
you would like to run OSF/Motif on your LINUX system, you may not
have to wait too long; I am planning to try and obtain Motif in the
near future.

Good luck with your installation and I hope that the next time you
call, it will be with your LINUX system!

UNIX SysOp
Before making this announcement, I already set Linux up on an old 386SX desktop computer that I was no longer using. Within a few months, this computer began to play a permanent role as my Internet server. Although it went through several hardware and software iterations, its basic identity remains the same: it's the very same server on which these words appear.