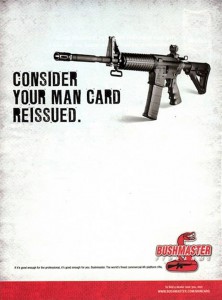 I dislike stereotypes, regardless of the target. I especially dislike stereotyping people or ideas with which I disagree. Stereotypes do not promote understanding; they promote hatred and miscomprehension, the inability see the real nature of the other side, obscuring it with a meaningless caricature.
The idea that "gun nuts buy guns to compensate for their unmanliness" is one such stupid stereotype.
Or so I thought until today. Until I learned that the famed Bushmaster rifle, the one that was used to mow down children in Newtown, was in fact advertised with the concept of a "Man Card", which can be revoked if you like, say, a kitten better than a gun, but can be reclaimed if you buy a Bushmaster semi-automatic rifle.
No, I didn't make this up and I don't think CNN did either.
The Constitution of the United States of America contains a Second Amendment that guarantees the right to bear arms, in the context of forming a well-regulated militia. Some argue that this is part of America's spectacularly successful system of political checks and balances, a "last resort" if you wish. Some argue that it is an obsolete leftover from revolutionary times, or worse yet, a relic of slavery when state militias were used to round up escaped slaves and states about to join a freshly minted Union were concerned that the right to maintain such militias will be taken away. Whatever the reason, I am pretty damn sure that none of the Founding Fathers, be they slaveholders or abolitionists, peaceful hunters or revolutionaries, ever conceived the idea that one day the Second Amendment will be used to issue "Man Cards".
Groan.