Warning: I don't usually use strong language in my blog. This post is an exception. Sometimes a spade has to be called a spade… or an asshole has to be called an asshole. If you are offended by strong language, please stop reading now.
I am writing this blog entry on account of the fact that a famed lion in Zimbabwe, a 13-year old male named Cecil, was killed by an asshole. An asshole whose pecker is too limp, I suppose, so he has to supplement his masculinity by killing rare, magnificent animals.
The asshole's name is reportedly Dr. Walter Palmer, an American dentist from Minnesota. And yes, Dr. Palmer, you are a class one asshole. A disgusting, sad, pathetic, sick moron. (Palmer is on the left in the archival picture below, but his smiling buddy is a sad, pathetic, sick moron, too.)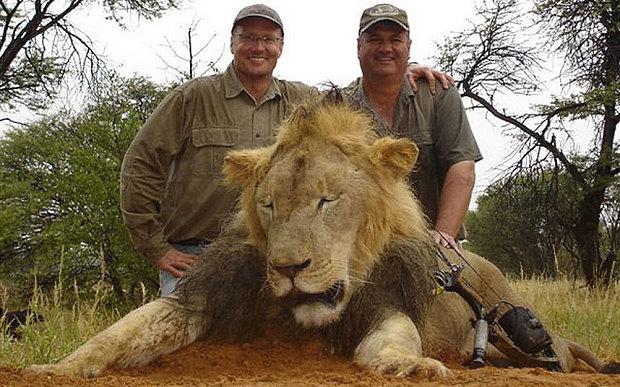 A picture like this actually makes you feel proud? Happy? The carcass of a beautiful big cat gives you a sense of accomplishment? That you made the world better? Contributed something to humanity? Something for your children to remember you by? Or are you just one of those jackasses who doesn't care one way or another, so long as you can prove that you have money to waste and creatures to kill?
The killing itself was reportedly quite gruesome. Shot not by a gun but by an arrow (possibly to avoid the noise that might have called attention to the fact that the lion was illegally lured from a nearby national park; the jackasses claim though that this is a way to "honor" the animal) the lion escaped and was tracked for a day or two before it was finally shot dead, skinned, its head removed as a trophy.
To be clear: I eat meat. I am perfectly comfortable with people hunting for food or survival. Yes, that includes hunting for seals, too. But hunting for glory? In the 21st century? When we have the power to destroy most living things on this planet in a matter of minutes? Yes, successful hunters had reasons to be proud back in centuries past when hunting skills were essential for survival. But today? The real heroes are those who help preserve fragile ecosystems, who save species from extinction. The real heroes are those African park rangers, for instance, who earn pennies a day trying to protect such glorious creatures from sickos like Palmer.
This animal was not killed for food or because it threatened someone. It was killed because a pathetic asshole wanted to collect its preserved head as a trophy.
I was hoping that Dr. Palmer is still in Zimbabwe; that he would be caught there and would spend a few years rotting in an unpleasant, dirty, hot, smelly African jail. Sadly, it appears that he is safely back in the US, and he is unlikely to be charged.
Fuck you, Dr. Palmer. Really, really, really fuck you. Fuck you for drawing pleasure from destroying some of the most magnificent things that exist on our shared planet. It is shitheads like you that make me want to get off the planet at the earliest opportunity. You might think that what you have done was legal… but it only shows the kind of human garbage that you really are. So from the bottom of my heart… fuck you.