It is nice to have a paper accepted on the penultimate day of the year by Physical Review D.
Our paper in question, General relativistic observables for the ACES experiment, is about the Atomic Clock Ensemble in Space (ACES) experiment that will be installed on board the International Space Station (ISS) next year. This experiment places highly accurate atomic clocks in the microgravity environment of the ISS.
How accurate these clocks can be depends, in part, on knowledge of the general relativistic environment in which these clocks will live. This will be determined by the trajectory of the ISS as it travels through the complex gravitational field of the Earth, while being also subject to non-gravitational forces, most notably atmospheric drag and solar radiation pressure.
What complicates the analysis is that the ACES clocks will not be located at the ISS center-of-mass; therefore, as the ISS is quite a large object subject to tidal accelerations, the trajectory of the ACES clocks is non-inertial.
To analyze the problem, we looked at coordinate transformation rules between the various coordinate systems involved: geocentric and terrestrial coordinates, coordinates centered on the ISS center-of-mass, and coordinates centered on ACES.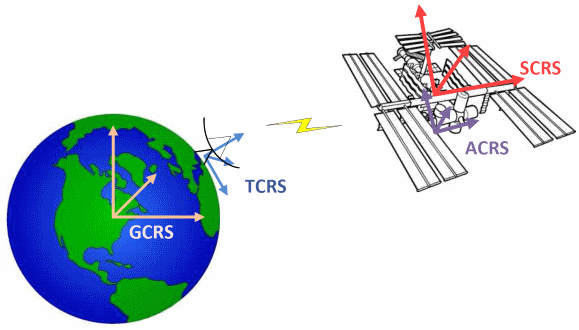 One of our main conclusions is that in order for the clock to be fully utilized, the orbit of the ISS must be known at an accuracy of 2 meters or less. This requirement arises if we assume that the orbits are known a priori, and that the clock data are used for science investigations only. If instead, the clock data are used to refine the station orbit, the accuracy requirement is less stringent, but the value of the clock data for scientific analysis is also potentially compromised.
It was an enjoyable paper to work on, and it is nice to end the year on a high note. As we received the acceptance notice earlier today, we were able to put the accepted version on arXiv just in time for it to appear on the very last day of the year, bearing the date December 31, 2015.
Happy New Year!