Yesterday, I went grocery shopping.
I came home with groceries and a TV.
You see, Loblaws was selling cheap 32″ smart TVs at the checkout counter. Only 150 dollars (Canadian), and they even paid the sales tax.
We were in need of a TV. The TV that we have in the bedroom (rarely used, but good to have; it'd have been nice earlier this month, when I spent a few extra hours in bed on account of feeling miserably sick) is old, useless and broken. Useless because it's an analog TV, and there is no analog service anymore, nor do we have an extra settop box for upstairs. And broken because… well, even when it was still actively in use, we needed to whack it every so often, as after it warmed up a little, its picture became elongated and discolored… but a good, well-aimed whack fixed it. Lately though, the picture was permanently distorted and in addition, the TV made a horrible, rattling, buzzing sound (and no, it didn't come from its speakers.)
Anyhow, we now have a new TV in the bedroom. It picks up OTA digital channels just fine using a small antenna, and it works well with Netflix and YouTube. Perfect. And I managed to haul the old TV downstairs this morning. (It's incredible just how heavy these larger old CRT televisions are.)
Before throwing it out, I decided to open it up. Who knows, maybe I can fix it and in that case, it can still have a second life at the Salvation Army or whatever. The later it becomes landfill, the better for all of us. So I decided to check this old beast's innards. Which, in case anyone is wondering, looks like this (yes, I took several pictures just in case I disconnect something that needs to be reconnected the right way):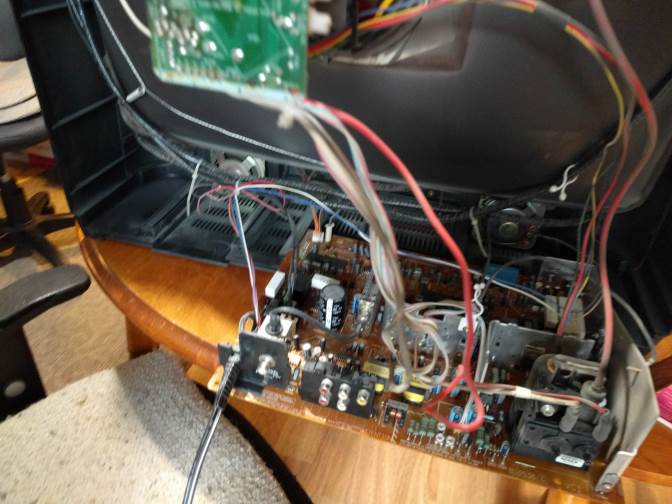 After removing the back cover and then vacuuming out a few pounds of accumulated dust, I powered it on, listening for the buzz. I also looked at the circuit board using my IR camera. My attention was quickly drawn to the left side, where there are some rather hot parts, but that turned out to be a bit of a red herring: the hottest part is a high-wattage resistor that is meant to shed a lot of heat. Next to it though… what I thought was an inductor turned out to be a relay. And that's what appears to be rattling!
I checked online. Surprisingly, this is a standard part, not model-specific, still being sold. But the first price I saw was something like $12.50 US plus shipping. Way too much to invest into a 23 year old CRT television set. But then… I found an offer from China for the princely sum of 75 US cents, plus 35 cents shipping. $1.10 in total. Of course I ordered it.
So now I wait. When the part arrives, I'll attempt surgery. If it fixes the TV, we'll find a good home for it. If not… landfill, landfill, here we come.
Incidentally, this television set was assembled in Canada. How about that. I don't think there are many television sets assembled in Canada these days.