OK, so today was a Sunday, I have recently finished some projects, so I had a bit of time to work on long overdue things around the house. Actually, it had to do with an attempt to repair an old TV, which needed to be vacuumed first, as it contained more than two decades' worth of accumulated dust. But quickly, my attention turned to our vacuum cleaner instead.
It is a Kenmore vacuum cleaner, one of the house brands of soon-to-be-defunct Sears Canada. It is reasonably decent. But…
Well, it has a HEPA filter. It is supposed to filter the exhaust of the vacuum, to ensure that it contains no microscopic particles. The HEPA filter is a small rectangular piece made of cardboard and other materials that fits behind a cover on the back of the vacuum. The vacuum was barely a few weeks old when this cover first fell off. Putting it back on didn't help; it fell off increasingly often. Taping it on didn't do the trick either. Eventually, I affixed it with two screws, and it seemed to hold afterwards. Even then though, I had a nagging suspicion that there is something odd about this vacuum cleaner…
But first, let me digress. Let me mention a building, a six-story apartment building in the Hungarian city of Pécs, which is the building where my wife grew up. This building is odd, as its stairwell and elevator shaft are housed in an entirely separate building, connected to the main building on each level by a hanging corridor. Rumor has it that the original architect simply forgot to include a stairwell and elevator shaft in the design. Kind of hard to believe but…
Anyhow, back to my vacuum cleaner. My nagging suspicion was this: after the air goes through the HEPA filter, where does it go? It is surely not going to exhaust through the solid plastic filter cover (the one that kept falling off.)
Lately, our vacuum cleaner was making weird noises. When I looked at it more closely today, I noticed that one of the screws that I used to affix the HEPA filter cover was gone, and that the filter cover was slightly off. The weird noise was the air whistling through the resulting gap. Well… this did it. Hard as it is to believe, I was forced to conclude that whoever designed this vacuum cleaner forgot to include an exhaust in the design.
Out came my trusty drill (bought at a Sears store eons ago when Sears was still the best source for quality tools) and a few minutes later, the filter cover had a bunch of holes in it: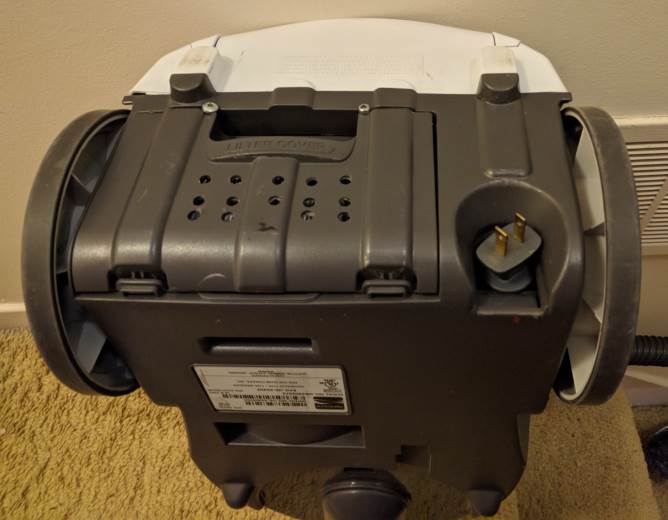 I put the cover back on, affixed it with screws again, and tested the vacuum cleaner. It was working just fine, running more smoothly than ever, and significantly cooler to the touch than ever before. And when you put your hands over the holes that I made, you could feel the tremendous outrush of air… air that previously had no place to go other than exhausting through cracks between plastic bits. No wonder the pressure was high enough to push off the HEPA filter cover even when screws were holding it in place.
Before writing this blog entry, just to be sure, I double checked. I don't want to make a fool of myself after all. But no… there truly is no exhaust, none whatsoever, on this vacuum cleaner.
What engineer in his right mind designs a vacuum cleaner with no exhaust?
Hmmm. Maybe an engineer from the same school that trained the architect who designs buildings without stairwells.