Short answer to the question in the title: No.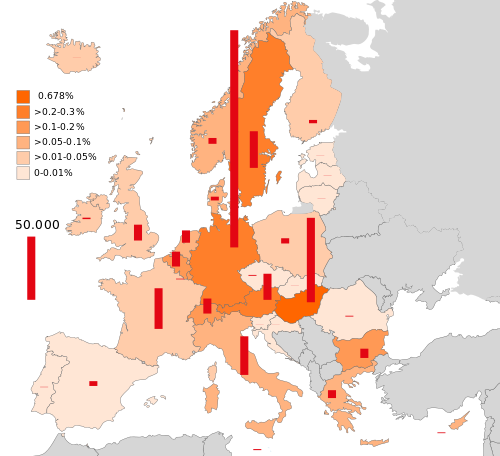 It is eminently possible to discuss issues concerning immigration and refugees without resorting to racist, dehumanizing language. What are the problems that the refugees are facing? Where are they coming from? Where are they really coming from (in light of news about widespread forgery of Syrian passports)? Are they genuine refugees? What about the transit and host countries? How can they handle a flood of migrants Europe has not seen since the end of WW2? Was it wise for Angela Merkel to suggest that Germany will accept all refugees with open arms? Are European citizens really evicted from their homes or lose other forms of assistance as local governments rush to help refugees? Are EU nations that have no external borders hypocritical in their condemnation of countries on the front line, like Hungary?
All legitimate questions, which can be discussed using facts and rational arguments.
But that is something I rarely see.
Instead, I see photographs that show the refugees in the worst possible light, with accompanying language that implies that these pictures are representative. That this is a "horde" coming to "occupy Europe" as they yell "Allahu Akhbar". That they are phony refugees because a real refugee does not want a better life. That they will destroy Christian civilization or European culture. That they are, simply put, dirty, smelly subhumans. Untermenschen.
To all my friends and family: If you use such language about your fellow human beings, I will not leave it unchallenged. I will not be a silent accomplice. If this means risking our friendship, so be it. There are times when decent human beings must speak up; not speaking up is not an option.
Meanwhile, I thank those friends of mine who have not abandoned their core values during this crisis from the bottom of my heart. Simply knowing you is a privilege.