I am reading a year-and-a-half old article in The Nation, written by Susan McWilliams about the prophecies of a 50 year old book coming true.
The book is Hunter S. Thompson's Hell's Angels: The Strange and Terrible Saga of the Outlaw Motorcycle Gangs.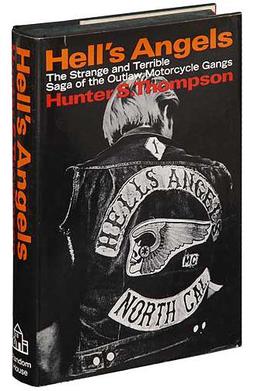 The article makes a compelling argument that Thompson's observations aptly describe the rise and reasons of success of "Trumpism". As I was reading its paragraphs, I was reminded of conversations I had recently with supporters of Trump. The sentiment of "total retaliation" described in the article closely captures my experience. What I saw was an automatic, almost visceral distrust of anything "liberal". Trump supporters embrace things like racism not because they are racist, but because it is a way to piss off, to troll "liberals". They reject things like climate science mainly because it comes from a scientific establishment that is seen as liberal, hence inherently untrustworthy.
Most compellingly, my conversations confirm the article's main point: Trumpists are not looking for solutions because they do not really believe that solutions exist. Hence the ethos of "total retaliation": nothing matters anymore, so long as they can piss off those lefty liberals some more. Children in detention camps? Great, look how those nasty liberals are squirming. The First Lady wearing a jacket with a questionable message? Look, she is even better at trolling liberals than her husband! Self-defeating tariffs on Canadian steel and aluminum? Excellent, that will really piss off that wacko commie Trudeau and his cult of personality in liberal haven Canada. Let our alpha male leader show that wimp who the boss is!
In short, there is no point being a good sport when the game is rigged against you. You might as well just piss on the playing field and storm off in anger. Punching a few random folks who stand in the way helps driving the point through.
Trump, Brexit, the rise of governments mistakenly labeled as "populist" in Europe, but which really distinguish themselves by being anti-science and anti-immigrant, presenting the media or human rights and antipoverty organizations, all perceived as bastions of the liberal world order, as the enemy; they all fit the picture drawn by McWilliams, base on the prophetic words of Thompson.
I never read Thompson's book, but now I feel compelled to look for a copy.