I am listening to The Disc Drive Disc.
The Disc Drive Disc is an audio CD. More specifically, it is an audio CD that was released by the CBC 24 years ago, shortly after the fifth anniversary of my all-time favorite radio program, Disc Drive.
Disc Drive went on for another 17 years or so, until it was unceremoniously dropped from the CBC's schedule as Radio Two was revamped to cater to a broader audience. I am sure that executives at the CBC are still congratulating each other on such a resounding success, even as the station lost nearly 40% of its audience in the past eight years, in their desperate search for the lowest common denominator, an audience that views "classical" as just a minor, unpopular genre.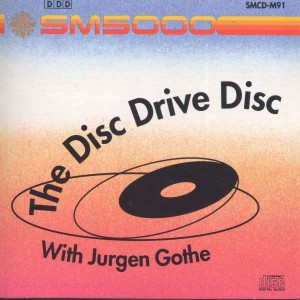 And most unfortunately, they lost host Jurgen Gothe and Disc Drive: a unique, eclectic program in which it was not uncommon to hear something from Mozart, followed by Ella Fitzgerald. As Jurgen himself put it on The Disc Drive Disc, this program was unique in the English-speaking (or anything-speaking) world. And Jurgen's whimsical commentary! It was a joy to listen to his stories about music, food, Herbie the cat or the Willis Point Fire Department. I was looking forward every weekday afternoon to 3 PM, when I could turn on my radio and enjoy a productive few hours at my computer while listening to the program.
Alas, this wonderful, unique, joyful program was taken off the air in 2007. If only I had the presence of mind, I would have recorded as many shows as possible. I didn't. I did record the very last Disc Drive, which was mainly a replay of the very first Disc Drive, but that's it.
Except that back in 1991, the CBC did issue the aforementioned CD, The Disc Drive Disc. Of course it is not an easy disc to come by 24 years later. When I searched for it online, second-hand copies were offered for hundreds of dollars on Amazon or eBay. But then, I came across a German music store that claimed to have this CD, still available, for the not so princely sum of 9.99 euros.
I picked, I clicked, and a few weeks later, today that is, I found a nice cardboard envelope in the mail, with The Disc Drive Disc inside. So one very last time, I was able to enjoy something new (to me, that is) from Jurgen Gothe and his team (and cats) from subterranean Studio 20.
Thank you, Jurgen, for the memories.