Oh, moments after posting about not having worthwhile subjects to post about, I suddenly remembered something that I have been meaning to post about for some time. That is to say, Moore's law in computing, the idea that the capabilities of computer technology roughly double every 18-24 months or so.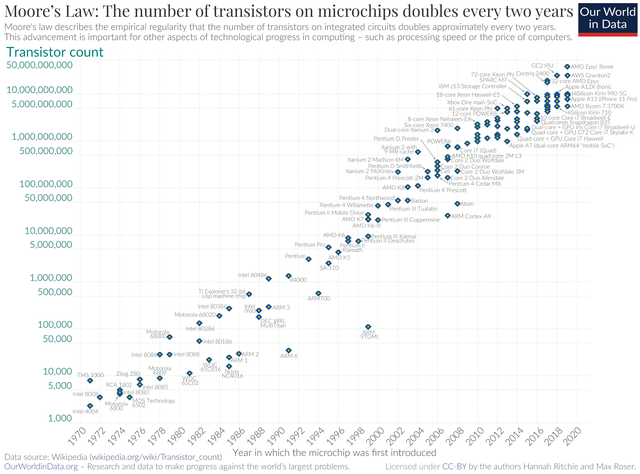 It has been true for a long while. Gordon Moore made this observation back in 1965, when I was just two years old.
I observed a form of Moore's law as I was swapping computer hardware over the years. My first major planned upgrade took place in 1992, when I built a really high end desktop computer (it even had a CD-ROM drive!) for many thousands of dollars. Months later, my older desktop machine found a new life as my first ever Linux server, soon to be connected to the Internet using on-demand dial-up.
The new desktop machine I built in '92 lasted until 1998, when it was time to replace it. For the first time, I now had a computer that could play back DVDs without the help of external hardware. It also had the ability to capture and display video from cable. Ever since, I've been watching TV mostly on my computer screen. I watched the disaster unfolding on September 11, 2001 and the tragic end of the space shuttle Columbia on February 1, 2003 on that computer.
Next came 2004, when I executed a planned upgrade of workstation and server, along with some backup hardware. Then, like clockwork, 2010 and finally, 2016, when I built these fine machines, with really decent but low power (hence low thermal stress) Xeon CPUs, three of them.
And now here we are, in late 2022. More than six years have passed. And these computers do not feel the least bit obsolete. Their processors are fast. Their 32 GB of RAM is more than adequate. Sure, the 1 TB SSDs are SATA, but so what? It's not like they ever felt slow. Video? The main limitation is not age, simply finding fanless video cards of decent capabilities that a) make no noise, b) don't become a maintenance nightmare with dust-clogged fans.
I don't feel like upgrading at all. Would feel like a waste of money. The only concern I have is that my server runs a still supported, but soon-to-be-obsoleted version of CentOS Linux. My workstation runs Windows 10 but support won't be an issue there for quite a while.
And then there are the aging SSDs. Perfectly healthy as far as I can tell but should I risk relying on them after more than 6 years? Even high-end SSDs are becoming dirt cheap nowadays, so perhaps it's time to make a small investment and upgrade?
Moore's Law was originally about transistor counts, and transistor counts continue to rise. But transistor counts mean nothing unless you're interested in counting transistors. Things that have meaning include execution speed, memory capacity, bandwidth, etc. And on all these fronts, the hardware that I built back in 2016 does not feel obsolete or limiting. In fact, when I look at what I would presently buy to build new machines, quite surprisingly the specs would only differ marginally from my six year old hardware. Prices aren't that different either. So then, what's the point, so long as the old hardware remains reliable?