So I figured I'd try Office 2019. It came out a few months ago, and I have the MSDN license and everything, so why not give it a test drive. I downloaded the DVD installation image, and ran setup.
Immediately, I was presented with a cryptic error message: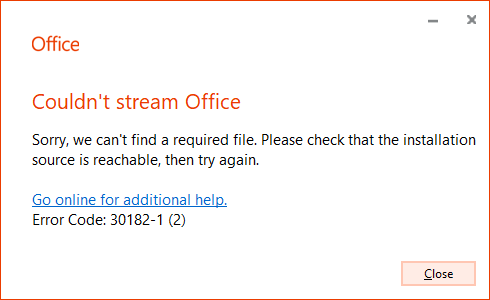 What the devil does this mean? I am installing from a Microsoft-provided DVD image. Surely, it has all the required files?
The "Go online…" link was of no use. Just some generic stuff about installation failures.
A quick online search, however, revealed the culprit: Office 2019 won't install unless Office 2016 is removed first.
Not something I am inclined to do at this time, not without thoroughly testing Office 2019 first to make sure that it behaves the way I like it (I am especially worried about Outlook and my encrypted imap connection, which can be a bitch to set up.)
In any case… in the software industry, 30 years ago already we had installers that gracefully recognized an existing installation of the same package, and offered either an upgrade or a side-by-side install. Or, worst case, they offered a meaningful error message, informing the hapless user that the prior version must be uninstalled first. Because, you know, chances are anyone installing Office 2019 might already have a copy of Office 2016 installed on their system?
I guess none of that is needed in 2019. After all, what kind of a dumb user am I if I don't immediately understand Error code 30182-1 (2)?