Everyone, meet the early 5th century saint, Christian theologian and philosopher, Augustine of Hippo. This is the oldest surviving portrait of him: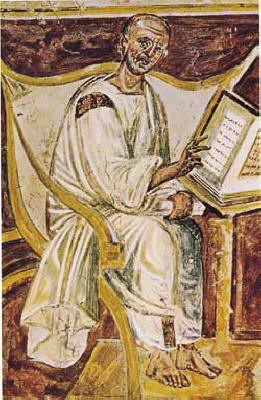 Why am I so impressed by Augustine? Well, some 1600 years ago he gave the perfect answer to anyone attempting to read science into holy texts. In his opus, The Literal Interpretations of Genesis, Augustine wrote:
"Usually, even a non-Christian knows something about [science] and this knowledge he holds to as being certain from reason and experience. Now, it is a disgraceful and dangerous thing for an infidel to hear a Christian, presumably giving the meaning of Holy Scripture, talking non-sense on these topics […] The shame is not so much that an ignorant individual is derided, but that people outside the household of the faith think our sacred writers held such opinions, and […] the writers of our Scripture are criticized and rejected as unlearned men."
Of course, you could replace the word Christian with, say, Muslim and [Holy] Scripture with [Holy] Koran, and the meaning remains exactly the same.
---
As a curious footnote, when I checked my blog to see if I might have written about Augustine before (I haven't) I noticed that the only other occurrence of "Augustine" here is in the context of the US space program, which was reformulated under the Obama administration in response to the recommendations by the Augustine Commission. Even more curious is that there were two Augustine Commissions, set up 20 years apart, chaired by the same Norman Augustine, former CEO of Martin Marietta and Lockheed Martin. Nothing to do with St. Augustine, of course.