I arrived in Ottawa in mid-July, 1987 as a landed immigrant. I was sponsored by my aunt and her husband András. It was András who awaited me at the airport on the evening of my arrival. (No, I did not arrive by air. My connecting flight from Montreal was canceled, so Air Canada put me in a limo along with another passenger. As the limo driver was not from Ottawa, and I knew nothing about the layout of the city, he dropped me off at the airport instead of taking me directly to my aunt's house.)
I spent some time in the old (since decommissioned) airport building waiting for András to arrive. (In the pre-cellphone days, I first had to exchange some currency, then get some change, then find a payphone in order to be able to notify them about my whereabouts.) After a wait of a half hour or so, András did arrive. We only ever met once before, briefly, when they were visiting Hungary and I spent a few hours at my parents' home, on leave from my mandatory military service. So when András saw me, he was not sure if I was the right person… as he approached me, he asked, "So you are Viktor?"
"Yes," I answered, to which András replied with a second question: "Why did you come here, why didn't you go to Calgary instead?"
Yes, András had a weird sense of humor. Not everyone appreciated it, but I did. I really grew to like him.
Earlier this week, it was Nature's turn to be funny, while also providing me with a perfectly good answer to András's question from 27 years ago. This is why, András: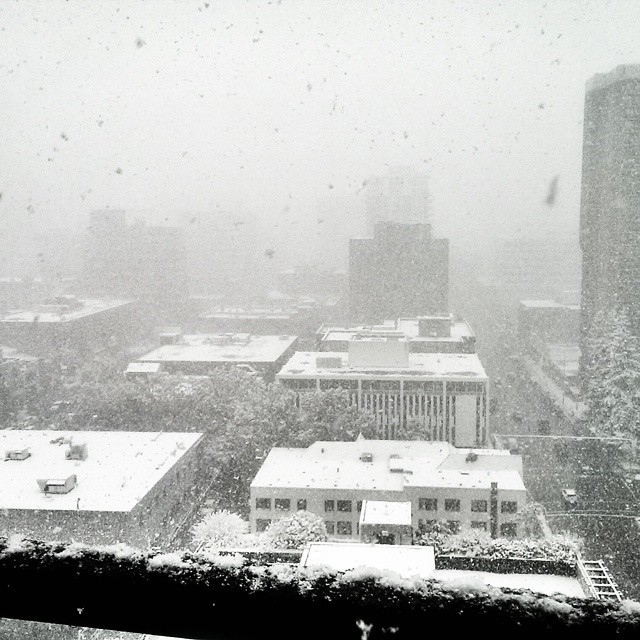 Yes, András, I am a wimp. I can tolerate winter, but I really don't like late summer snow storms.
Alas, András is no longer among us to hear my response. He passed away many years ago, after losing his battle with pancreatic cancer.