Imagine the following sequence of events:
First, a second-rate power suffers a terrorist attack as part of a festering political crisis that has been going on for many years. This attack is the proverbial last drop in the bucket: they feel they must respond, and launch a punitive military expedition that may not be well planned and might even fail, despite their apparent superiority.
A rival second-rate power who supported the rebels that committed the terrorist act feels that it must intervene. Its voice has been ignored for far too long, and it has vital interests in the region.
A Great Power, in support of the first second-rate power as part of a long-standing alliance, steps in, reluctantly because they do not want to get embroiled in someone else's war, but convinced that their actions are unavoidable.
Another Great Power, in reaction, steps in as well because it feels that it is necessary essential to do so in order to maintain the existing world order and their position therein.
What did I just describe? The October 7 attack on Israel by Hamas? The increasingly hostile response by Iran? A possible intervention by the United States assisting Israel, leading to direct conflict with Russia who are already active in the region and embroiled in conflict elsewhere?
Nope. I was describing something that happened 109 years ago, when Serbian terrorist Gavrilo Princip murdered Austria-Hungary's heir to the throne. Austria-Hungary's punitive expedition against Serbia was launched in response. This led to Russia's decision to enter the war, followed by the German Empire and ultimately, Britain.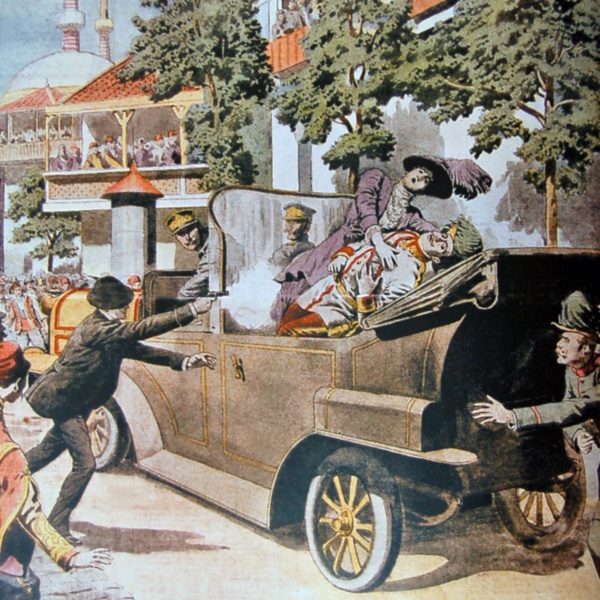 Yet, though the analogy is far from perfect, the parallels are unmistakable. And to be honest, frightening.
This is why I don't think of 10/7 as Israel's 9/11. Nope. It's our era's Sarajevo.
We have been living in a golden era that has no precedent in human history. Pax Americana, which began in 1945 and was characterized by measures like the Marshall Plan that, instead of punishing Western Europe, helped the continent back onto its feet, has been keeping our world safe and prosperous for almost eight decades. No, not perfect, far from it. Millions still died in conflict. But it was millions, not billions, and the promised great conflict, a thermonuclear WW3, has not happened yet. Meanwhile, billions live in relative security, safety, and prosperity, enjoying decent lives, on a scale that truly has no historical parallel (though the period between 1849 and 1914 comes close.)
But ultimately, all good things must come to an end, they say. And this world order is coming apart at the seams. Alliances weaken. A rules-based world is no longer in vogue. Liberal democracies are losing their middle class, even as the same middle class votes for lower taxes and less government, forgetting that it was higher taxes and more government (reminding my good American friends of the late 1940s, 1950s, with the GI bill, the Interstate highway system or public education, all financed by taxing high incomes at rates not seen before or since) that built that prosperous, strong middle class in the first place. Other Western nations follow similar paths as the middle class shrinks and trust in the institutions of liberal democracy erodes.
"The lamps are going out all over Europe," declared Sir Edward Grey, Britain's Foreign Minister at the time, on August 3, 1914 as his country was about to declare war on Germany. I fear that we are just a hair's breadth away from our lamps-are-going-out moment. And just like Sir Edward Grey, responsible leaders of our times appear to feel increasingly helpless.