It didn't take very long for Hungary's far right to turn the Canadian government's giant billboards into a fascist meme.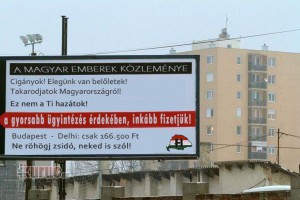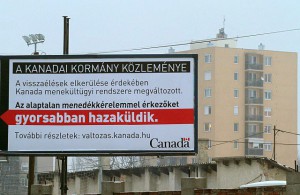 Reacting to comments by Jason Kenney about the plummeting numbers of refugee claimants from Hungary, the infamous far-right Web site kuruc.info responded with a twisted version of the giant billboard placed by our ever so compassionate Conservative government in strategic locations in Hungary… namely, places with a high percentage of Roma population. The original billboards advised would be refugee claimants about the accelerated claims process. The version of kuruc.info is slightly different. It reads:
ANNOUNCEMENT FROM THE HUNGARIAN PEOPLE
Gypsies! We have had enough of you! Get out of here!
This is not your home!
To facilitate faster processing, we would rather pay!
Budapest – Delhi: only HUF 166,500
Don't laugh, Jew, this also applies to you.
In the lower right, the official logo of Canada's government is replaced by a map of "greater Hungary".
I hope Messrs. Harper and Kenney are proud of the fodder they provided to these proud protectors of the Hungarian nation.