Recently, it was proudly announced that Canada now has a state-of-the-art emergency preparedness system, with the participation of major telecommunication companies like Bell or Rogers.
The problem… well, here is an example of the problem: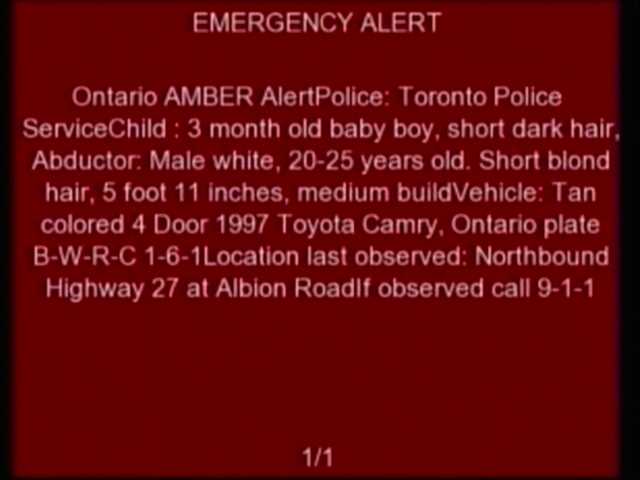 This is what was on my television screen a little earlier this afternoon, in place of CNN, for something like a full minute or so.
And not just in place of CNN. In place of every channel. Even if I was trying to watch a recorded show on the PVR.
What's wrong with it, you ask? Well, I live in Ottawa. That is more than 400 kilometers from Toronto, and the last time I checked, a 1997 Toyota Camry is not a hypersonic jet aircraft.
But even if the abduction happened next door… I don't mean to be heartless, but this kind of dramatic alert is something I would expect to see if World War 3 was imminent, or if my city (not Toronto!) was about to be hit by an F5 hurricane. Not in case of a domestic abduction (which, in the vast majority of cases, is just a family member like an estranged father, taking a child without permission.)
The last time this happened, I wrote to the CRTC, who told me that it's not their responsibility (even though they were the ones who mandated it!) but that of provincial agencies and the telecommunication companies that implement the system.
Today, I wrote to Rogers. I do not expect a meaningful reply*.
As if I didn't already have enough incentives to cut the cable.
---
*Update: A day after I sent my e-mail complaint to Rogers, a gentleman by the name of Aaron called me from the "President's office". He very patiently listened to me as we discussed not just the emergency alert system but also other issues related to the digital transition, the cost and limited choice of decoder equipment, and other topics. We spent more than 20 minutes on the phone. I still don't expect anything meaningful to happen, but I appreciated it that my complaint was taken somewhat seriously.