Tonight I came across yet another cartoon questioning what some see as Western hypocrisy, manifested in our response to the Charlie Hebdo massacre vs. the lack of a strong response to the massacre of civilians by Boko Haram in Nigeria.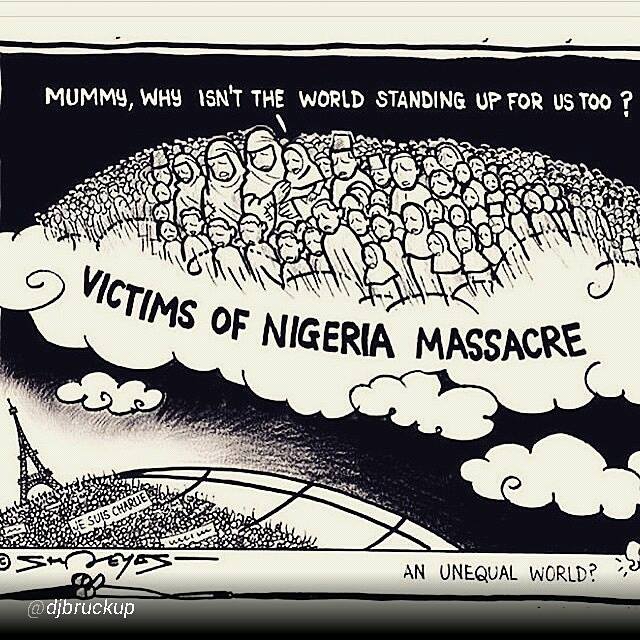 But it's not hypocrisy. Part of it is pragmatism, part of it is something much worse.
The pragmatism part is this: When people kill each other in gruesome ways in a far-off country, we feel sorry, we sympathize, but that's it. It does not threaten us, does not threaten our values, and other than (perhaps) donating to our favorite charity, we don't really want much to be done about it either, as we don't like either body bags coming home with soldiers inside, or paying taxes for expensive toys to be dropped on other people's heads on another continent (and if we did that, we'd be blamed anyway.)
In contrast, when people from a foreign country, or people acting on behalf of a foreign power come to a Western city and go on to commit a politically motivated act of murderous terrorism, it is a direct attack on us. Our lives and our values. So yes, we respond en masse. We don't expect people in India, China, or for that matter, Nigeria to carry signs with "je suis Charlie", because it's not their problem; it's ours.
But there is another problem. Both those praising and those questioning the response to Charlie Hebdo often speak of the "world". But what is this "world" of which they speak? A few million people marched on the streets of Western Europe, with a population of some 400 million. New organizations in North America, broadcasting to another 400 million people or so, made a big deal of this event. But… 800 million people is not the world. It's barely more than 10% of the world.
Was there any media outrage over Charlie Hebdo in China? Any large protests for the freedom of the press in India? Or any mass demonstrations elsewhere in Asia (population: 4.4 billion)? What about Africa (population, 1.1 billion)?
Not that I'd expect them to be outraged. The attack clearly was not targeting them: it was targeting the West, and one of the West's core values. Of course we are upset. But "we" are not the world. We are only a small part of it, and just because we have bigger guns and louder media outlets does not change this fact. All who are critical (or, for that matter, supportive) of the Charlie Hebdo reaction are well advised to keep this in mind.