The world is not heading in the right direction. Not by a long shot. The golden era that began in 1945 and saw an unprecedented number of people around the world find relative peace, prosperity, and security for nearly eight decades, may be coming to an unpleasant end. There is a Hungarian saying ("kutya is jódolgában megy a jégre") that may have a loose equivalent in English in the form of the proverb, "you never miss the water till the well runs dry".
Here are a few things that concern me, in no particular order:
Worsening wars: Russia-Ukraine, the (brand new) Hamas-Israeli war, hotspots elsewhere, China-Taiwan tension
The shrinking middle class, rising inequality and homelessness
Erosion of democratic values, faith in democratic/constitutional institutions
Rise of populism, ideological demagoguery and intolerance, political polarization, even violence
Rising economic instability, lack of economic and environmental sustainability
There are probably a few more that I have not mentioned, including petty domestic Canadian issues, such as the gloriously incompetent bills C-11/C-18 by which Canada tries to control online media.
Individually, each of these issues would be considered serious, but certainly not insurmountable. When they come all at the same time… The last time the world faced something similar was in the late 1920s, early 1930s. We know how well that turned out. Tens of millions of deaths, the rise of two of the worst totalitarian ideologies in history, a world war and the deployment of two nuclear weapons later…
Those nuclear weapons proved to be genuine peacemakers: Few can argue that they had a major role convincing all participants to play kind of nice, making sure that certain lines in the sand remain firmly uncrossed. But the inhibitions against their use are becoming weaker over time.
Am I being an alarmist? I don't think so. I'm pretty sure the people who woke up today to the sound of air raid sirens in Israel, or found themselves at the end of the day in Hamas custody as human shield hostages do not think so either.
Earlier today, I was looking at amazing pictures of an abandoned Siberian town, Kadykchan. Built at the cost of the lives of countless gulag prisoners, the town lost its population after the breakup of the USSR, and now serves as little more than a sad reminder of entire chapters of 20th century history. I think one of the images of that town that I saw might serve well as a cautionary tale.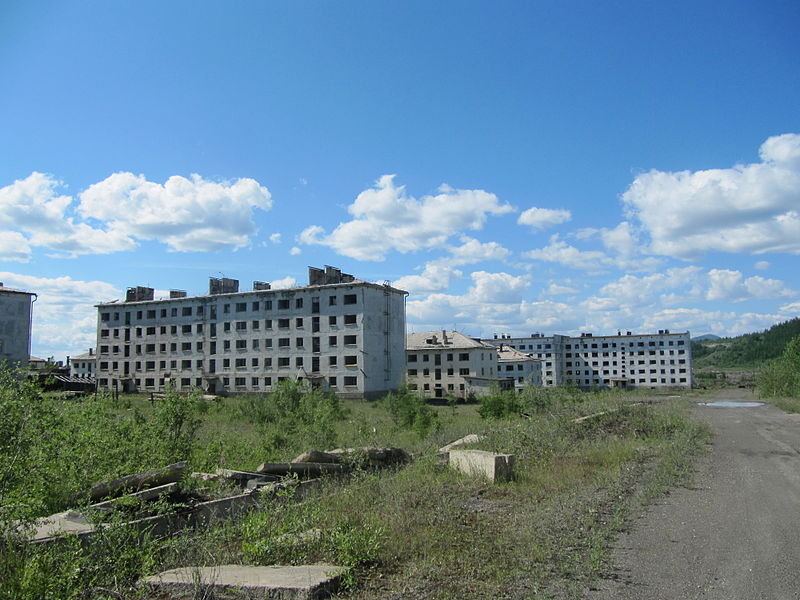 How about coming to our senses before it's too late, before we turn much of the world into a similar post-apocalyptic wasteland?
---
PS: My AI friend Claude suggested toning down this post a little, to make it less alarmist. I don't want to. I am alarmed.