Stereotypes hurt people.
Television, sitcoms in particular, often rely on stereotypes. But it's not always a Bad Thing. When the stereotype itself is the object of ridicule, kind of holding up a mirror for the audience to look into, stereotypes can actually help turn ours into a better society. The Big Bang Theory is a good example: its Jewish (Howard Wolowitz) and Indian (Raj Koothrappali) protagonists mock not Jews and Indians but our prejudices.
But other stereotypes are more troubling. One notable example, discussed recently, is the character Apu Nahasapeemapetilon in The Simpsons: a stereotypical Indian-American running a convenience store, speaking with a funny accent.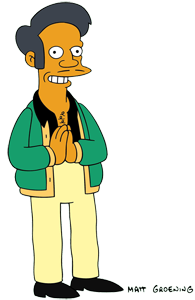 Yes, I recognize that the line between mocking people being stereotyped vs. mocking people who stereotype others is a thin one. But I think it is drawn somewhere between The Big Bang Theory and The Simpsons. The Big Bang Theory's humor is defensible because it does not dehumanize the protagonists. The Simpsons, sadly, doesn't fare that well. No wonder Hank Azaria no longer wants to be the voice of Apu.
However, when it comes to the point of a Caucasian voice actor voicing a non-Caucasian character, I think we are going one step, no, make that one giant leap, too far.
You see, I thought actors, you know, act. That is, pretend to be something they are not.
But now you are telling me that a naturally blond actress cannot play a brunette? Or a Jewish actor cannot play a German officer?
Or is this concern specifically reserved for, I don't know, "race"? Or what's the new catchphrase, people who are "racialized"? (Whatever the devil that means.) Because somehow, the color of your hair doesn't matter but the color of your skin makes you… different?
And does it go both ways? Are Indian actors forbidden to play Europeans? Are black actors forbidden to play white roles? In any case, who decides what kind of acting is acceptable, and what crosses the line? Heaven forbid, into the territory of "cultural appropriation"?
In my all time favorite movie, Cloud Atlas, several actors play as many as a half dozen different roles, in different eras and cultures. These include a Korean actress playing, in one storyline, the role of the wife of a 19th century San Francisco lawyer. Another Korean actress, in a male (!) role, plays as a bellboy in 1970s San Francisco. Hugo Weaving plays the role of a sadistic female nurse in early 21st century Scotland, but also the role of an authoritarian Korean politician in 22nd century New Seoul. And so on.
You can guess which of these roles were criticized by some. "Yellowface" we were told, as if Cloud Atlas had anything to do with Hollywood's racist past from many decades ago. Nothing could be further from the truth.
Rather, what that movie told me with its choice of actors and roles is that skin color, this so-called "race", matters as little as the color of your hair or your eyes. It means nothing. We are all members of the one and only human race. And just as a blond actress can play the role of a brunette or a male actor can play in a female role, a black actor can play as a white person while a person of European descent can credibly play a Korean. Because these superficial differences in appearance mean nothing.
The suggestion that a white actor cannot lend his voice to an Indian character in a cartoon is preposterously backward. It seems designed to maintain racial discrimination. It, to use that fashionable phrase again, promotes and preserves racialization, instead of helping us progress towards a post-racial society in which all human beings are judged by the strength of their character, and the color of their skin matters no more than the color of their hair.