Today, I had to widen a column in an Excel spreadsheet in which I record some numbers.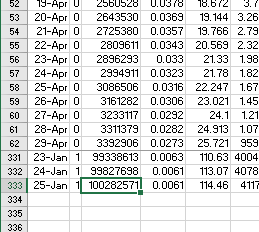 It is a spreadsheet that I use to keep track of confirmed COVID-19 cases.
The actual number of cases is likely much higher, since systematic testing is not available everywhere, and even where it is, people with milder symptoms or no symptoms at all may not get tested.
This number is also accompanied by the number of known COVID-19 fatalities: well over 2 million and counting, with the end nowhere in sight. COVID-19 may yet put the Spanish Flu to shame, despite a century of progress in medical science, despite the scientific miracle of rapidly developed, engineered I should say, mRNA vaccines.