Two weeks, or to be precise, fifteen and a half days ago, I was walking the streets of downtown Vienna, enjoying a bright late winter day, eating a bit of authentic Viennese street food and a fabulous slice of cake in a Vienna coffee house. The next day, I boarded a flight at a busy Vienna Airport. To be sure, some signs were already present that not everything was normal. The plane had fewer passengers than usual, especially in business class. There was news of Lufthansa grounding all their A380 superjumbos, and when I asked our pilot about this, he just shook his head, not knowing what the future would bring. But all this felt distant; the world around us, by and large, still felt normal, busy as usual, with people lining up at checkpoints, roadways busy with traffic, airplanes landing and departing at regular intervals.
Today, fifteen days later, we visited our favorite deli store in a nearly completely deserted Byward Market in downtown Ottawa. I literally could have parked in the middle of the street. The store was open (we phoned ahead to make sure) but deserted as well. All the good food there… will it ever sell? Will they at least get a chance to donate some of it, e.g., to the Food Bank or to a nearby shelter? Will they be able to stay open? Will they be able to stay in business?
I don't know what hit me more, this store or the Web site of Vienna Airport. You know, the same airport where I stood in line, two weeks ago, to go through customs and security.
Not much of a chance of a lineup today.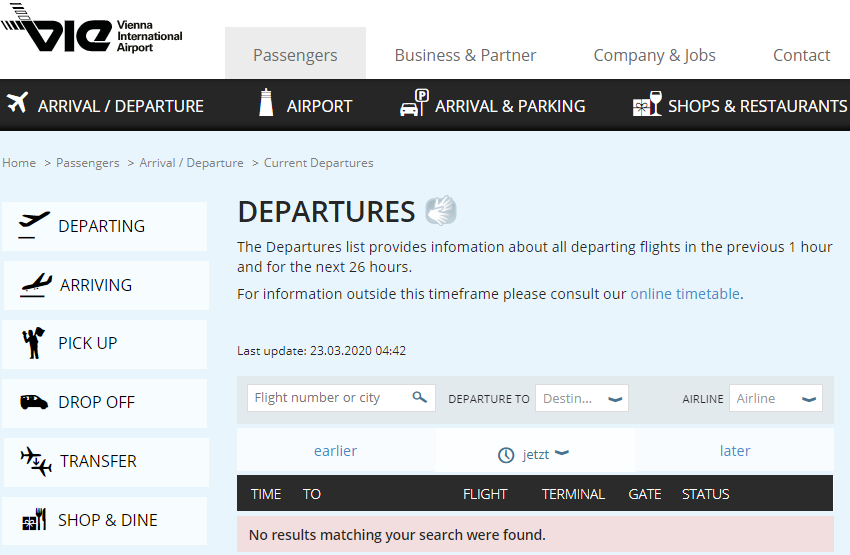 How will our world recover from this?