I returned from a brief trip to Hungary yesterday.
My return flight was a bit eerie. Here is a picture of a part of the business class section of this Austrian Airlines 767: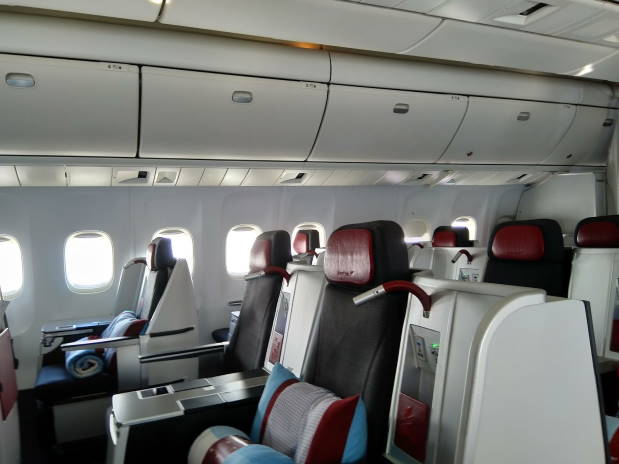 It was not quite this empty (I tried to avoid photographing any passengers, for obvious privacy reasons) as there were a few passengers there, but only a few. Most reservations were canceled.
Is this dramatic response to the coronavirus justified? Parts of China, all of Italy under quarantine? Schools, public gatherings canceled around the world? A cruise ship industry in crisis, a global airline industry poised to lose hundreds of billions of dollars? Planes flying empty just to maintain the respective airlines' claims on lucrative routes, or planes not flying at all, like the A380 fleet of Lufthansa?
Meanwhile, as Trump himself is fond to point out, the number of conformed coronavirus infections (most of which result in a mild illness, nothing more) worldwide is dwarfed by the number of influenza deaths this flu season.
Of course the flu is (more or less) predictable. The coronavirus is not. And its fatality ratio is much higher.
Even so, I have to admit that I wonder if the cure is causing more harm than the disease.
Then again… if we are just one minor mutation away from a Spanish Flu like pandemic, perhaps the drastic steps are justified. After all, at least some folks are criticizing the WHO for not going far enough, for failing to declare a global pandemic.
No matter what, flying back home in the time of coronavirus was an eerie experience. It was a bit like something straight out of the first episode of a science-fiction television series.
And yes, I was using my limited supply of hand sanitizer quite liberally. After all, you can never be certain…