This iconic photograph was snapped 60 years ago today from the window of a Boeing 707 prototype.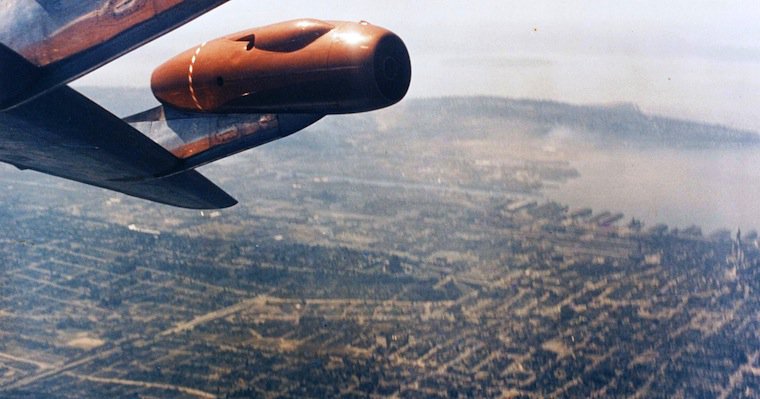 In case it's unclear, that airplane is flying upside down. And no, it is not about to crash. It was just in the middle of an aerobatic maneuver called a "barrel roll".
It was, at least for its test pilot, Alvin "Tex" Johnston, a perfectly normal demonstration of what his new airplane is capable of doing. His company's CEO, Bill Allen, rather disagreed, but the 707 went on to become a great commercial success and the famous Seattle barrel roll became a matter of legend. I first heard about this barrel roll incident more than 30 years ago from my long gone friend Ferenc Szatmári, physicist, private pilot and storyteller extraordinaire.
Reportedly, Allen never really got over this incident; decades later, when he received a framed copy of the photograph above at his retirement banquet, the memento was accidentally left behind. Then again, if someone gave me a minor heart attack like that (after all, for Allen, the future of his entire company was at stake), I, too, may be inclined to hold a grudge.