A great many years ago, my uncle Jóska once played a joke on the family. He found a large utility scrub brush somewhere, and at the most unexpected moments, he held it under your nose and said, "Come, give a kiss to grandpa!"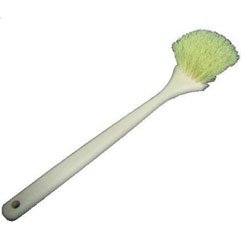 What he really meant, of course, is that the scrub brush looked like the grandfather of all toothbrushes. Even so, "give a kiss to grandpa" became kind of an inside joke in our family whenever we encountered something that was unusually oversized.
Like an oversized piece of caramel candy.
When I was a child, one of our favorite candies was the "cow caramel" candy, a Polish product, a caramel candy that, unlike most caramel candies, was neither sticky nor chewy; rather, it just crumbled in your mouth without sticking to your teeth or palate. Oh, and it was very tasty, too.
This "cow candy" is still manufactured, and it is routinely available even in Canada at European deli shops. Although we try to keep our candy consumption at a minimum for all the obvious reasons, my wife and I remain regular buyers.
So imagine my surprise when the other day, my wife comes home with the grandfather of cow candies: a giant, mega-size (it says so on the label) cow candy that looks just like the regular cow candy, except that it's much bigger.
But, I can attest, just as tasty. We cut this one in half and enjoyed it earlier tonight, but not before I snapped a picture, showing the "regular" cow candy and a Canadian quarter for size comparison.