I am back from another round of globe-trotting. I spent a week in the UAE, in Dubai and Abu Dhabi, followed by a very brief detour to Budapest to visit my parents.
On arrival to Dubai, we landed nearly an hour late. The reason: a massive sandstorm, which still blanketed the city the next day. Sandstorms can be just as scary and dangerous as snowstorms here in Ottawa: they can reduce visibility to near zero, and the sand can cover roadways in no time. In fact, sand is worse than snow in one respect: it does not melt away.
I was taken to Abu Dhabi by car and during that trip, I saw the rarest of desert wonders: rain.
I was unable to book a room in the hotel of my choice in Abu Dhabi, as most hotels were full due to some defense exhibition. I did, however, find not a room, but a whole apartment at a very modest price in downtown Abu Dhabi, in a brand new apartment hotel called Bin Majid Hotel Apartments (second building from the left):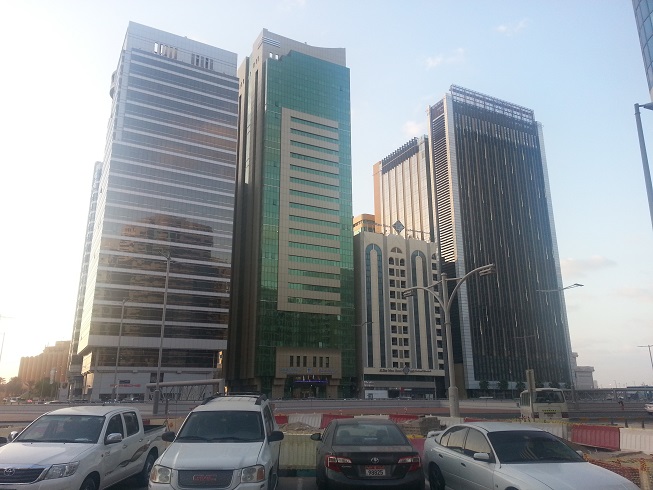 I had a one bedroom apartment, fully equipped, with a beautiful view of the sea:
Around the hotel, I befriended several cats. OK, maybe befriended is too strong a term, but one of them was certainly friendly for a while. It was a mostly white cat with a tabby tail; young, probably, but also rather small and skinny. When I saw this cat for the second time and let her (?) sniff my fingers, she would not stop following me. She rubbed against my leg, dropped on her side onto my shoes, and even when I picked her up and placed her back on a safe sidewalk, she continued to come after me. Only after I picked her up and put her onto a stone ledge did she take offense: she jumped off the ledge and disappeared under a parked car. I hope I did not offend her too deeply. I have not seen her afterwards. However, on my last morning in Abu Dhabi, I went looking for her and found instead another, equally tiny and skinny male cat: obviously an adult male, it was a tabby with a heavy limp and only one functioning eye. I felt heartbroken for these cats, although I have been assured that in the UAE, cats are generally not treated badly.
As always, the food in the UAE was both tasty and spectacular. One evening, a colleague took me to a restaurant recently opened by one of his friends. Here, we were treated with a spectacular feast: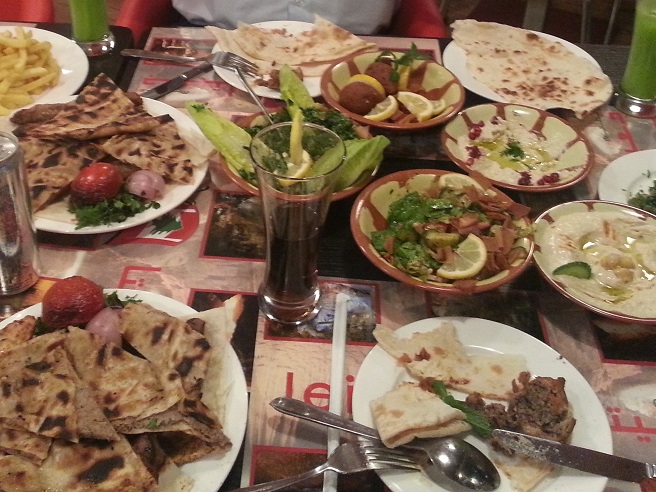 Yum! My only regret is that I couldn't eat it all. (Actually that's not true: my other regret is that I came back heavier than I left, which is most unfortunate but not at all unusual when visiting the UAE.)
Then all too soon, it was time to leave. I boarded a direct flight from Dubai to Budapest, a recently introduced route by Emirates Airlines. After take-off, I enjoyed a spectacular view of downtown Dubai, dominated by the world's tallest skyscraper, the Burj Khalifa, from my airplane window. Sadly, my attempts to take a picture were not very successful.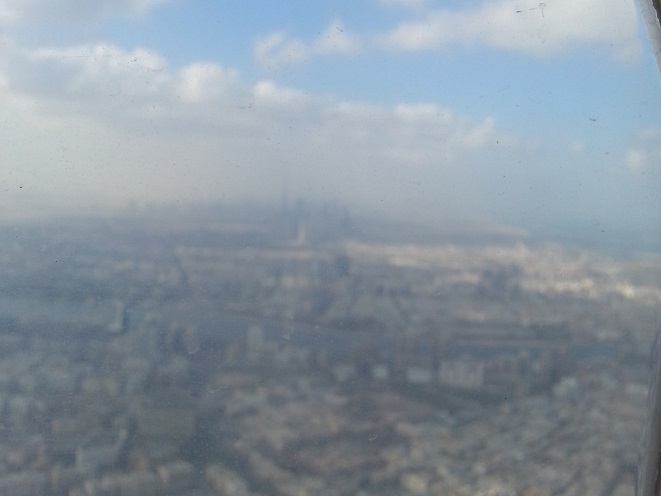 And just like that, this part of my journey under the desert sun, a few very busy workdays in Dubai and Abu Dhabi, was over.