Having been annoyed by a Firefox crash a few weeks ago, I decided to give Google's Chrome browser a serious try on my Windows desktop. I am, after all, using Chrome on my Android phone and tablet, so I figured I might as well swear allegiance to our Google overlords on my desktop as well…
But it's not going to happen, not just yet. Yesterday, after I managed to close a tab in Chrome by accident one too many times, I Googled for ways to disable the "X" in tabs other than the active tab… only to find that Google years ago declared that they don't consider this a problem and they would not solve it. Indeed, I find Chrome's customization features rather limited compared to what is available in Firefox under about:config.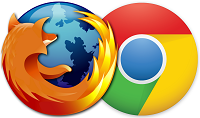 So, I switched back. I shall be using Firefox for the time being. I am still keeping Chrome on standby, just in case Mozilla goes berserk (their recent UI changes were not exactly welcome with open arms by much of the user community, myself included; who knows what new insanity awaits us in the pipeline.)
And, it seems that I am not alone.