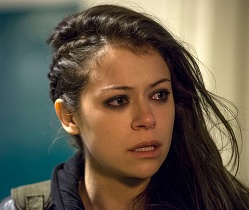 There are few things (OK, well, apart from most sports) that interest me less than Hollywood awards.
Nonetheless, tonight I was rooting for Orphan Black star Tatiana Maslany, who pulled off an incredible feat in this remarkable sci-fi series, playing as many as seven (eight, by some count) totally different, fully developed characters.
At least she lost to an actress that I also like and respect, Robin Wright, known as Jenny from Forrest Gump, among other roles.
Still… I am upset.