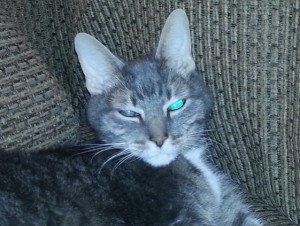 When you have a family member who is gravely ill, you may not have the stamina to pay attention to other things. When you have a family pet that is gravely ill, it's almost as bad (actually, in some ways it's worse, as a pet cannot tell what hurts and you cannot explain to the pet why unpleasant medication is necessary or discuss with the pet the available treatment options.)
As I've been dealing with a gravely ill cat in the past six weeks, I neglected to pay attention to other things.
I did not add a blog entry on October 31 with my drawing of a Halloween cat.
I did not comment on Remembrance Day. I am very fond of Remembrance Day, because it does not celebrate victory nor does it glorify war; on the contrary, it celebrates sacrifice and laments on the futility of war. This is why I am so unimpressed by the somewhat militantly pacifist "white poppy" campaign; in my view, they completely miss the point. I usually put a stylized poppy in my blog on November 11; not this year, as I spent instead a good portion of that day and the next at the vet.
I most certainly did not comment on that furious (and infuriating) wild hog of a mayor, Toronto's Rob Ford, or for that matter, the other juicy Canadian political scandal, the Senate expense thing. That despite the fact that for a few days, Canadian news channels were actually exciting to watch (a much welcome distraction in my case), as breaking news from Ottawa was interrupted by breaking news from Toronto or vice versa.
I also did not blog about the continuing shenanigans of Hungary's political elite, nor the fact that an 80-year old Hungarian writer, Akos Kertesz (not related to Imre Kertesz, the Nobel-laureate) sought, and received, political asylum, having fled Hungary when he became the target of threats and abuse after publishing an article in which he accused Hungarians of being genetically predisposed to subservience.
Nor did I express my concern about the stock market's recent meteoric rise (the Dow Jones index just hit 16,000) and whether or not it is a bubble waiting to be burst.
And I made no comments about the horrendous typhoon that hit the Philippines, nor did I wonder aloud what Verizon Canada must be thinking these days about their decision to move both their billing and their technical support to that distant country.
Last but certainly not least, I did not write about the physics I am trying to do in my spare time, including my attempts to understand better what it takes for a viable modified gravity theory to agree with laboratory experiments, precision solar system observations, galactic astronomy and cosmological data sets using the same set of assumptions and parameters.
Unfortunately, our cat remains gravely ill. The only good news, if it can be called that, is that yesterday morning, he vomited a little liquid and it was very obviously pink; this strongly suggests that we now know the cause of his anaemia, namely gastrointestinal bleeding. We still don't know the cause, but now he can get more targeted medication. My fingers remain crossed that his condition is treatable.