Today, we saw President Putin in public, at a celebration commemorating the annexation of Crimea 8 years ago.
Suddenly that reminded me of something else: Germany celebrating the Anschluss, the annexation of Austria that occurred in March 1938.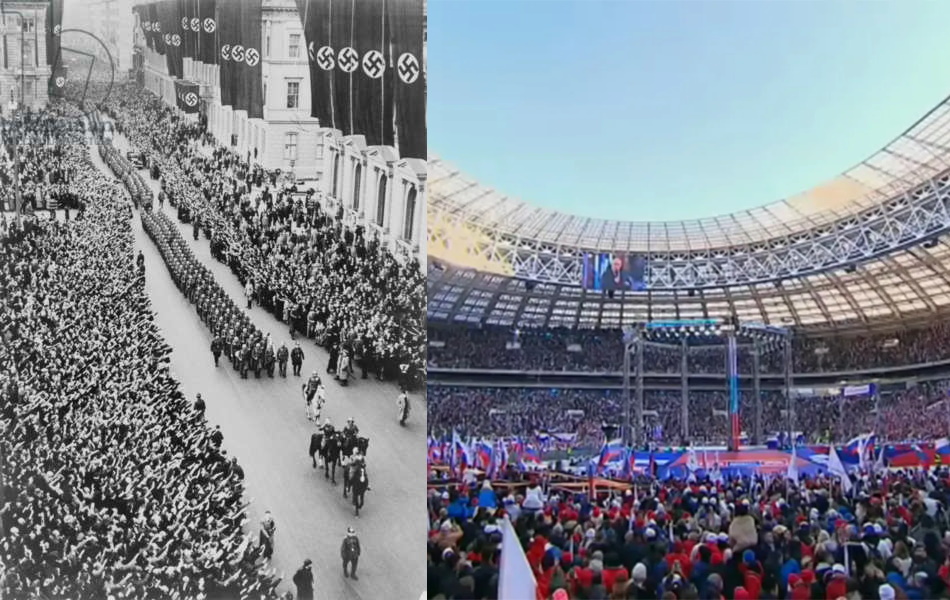 But Putin, it seems, had eclipsed Hitler as the all-time genius of national greatness. After all, he managed to accomplish in mere three weeks what took Adolf more than three long, painful, blood-soaked years.
Putin managed to get from his equivalent of the Polish border to his Stalingrad in just three weeks.
That is, what initially began as a form of Blitzkrieg, or lightning war, rapidly deteriorated into an unwinnable war of attrition, with long, unsustainable supply lines, fighting against a much better motivated, better led, better supplied foe.
Ukraine is paying an incredibly heavy price, but by their fierce resistance, they might just be saving the world from global thermonuclear war.
Of course, rather than losing (which will likely see him hanged, just like other incompetent autocrats before him, with Mussolini serving as a relevant example) Putin may well decide that burning much of the world is preferable. At that point, I hope that those around him, however subservient or corrupt, will find the moral courage, the spirit of true patriotism not to carry out orders that would amount to much of humanity (including Russia) committing a form of collective suicide. That they won't let this murderous sicko, this petty KGB thug turn our magnificent civilization into ashes and dust, into radioactive mushroom clouds.