Listening to Donald Trump again and again reminds me of the late days of the Roman Republic, notably Octavius, also known as Augustus, first Roman emperor.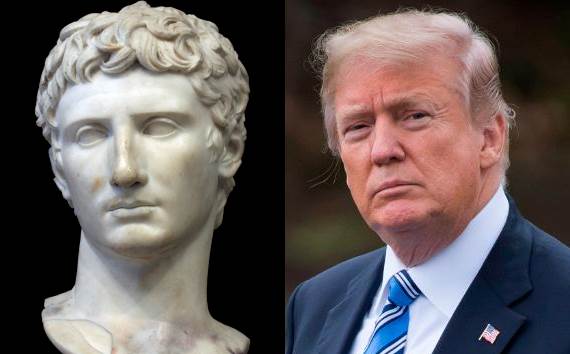 Here are a few interesting, especially relevant passages from the Wikipedia article on Augustus.
Recall the debate about whether or not a sitting president can be indicted? "Octavian had the Senate grant him, his wife, and his sister tribunal immunity."
Or how about the funding of Trump's wall? "Octavian made another bold move in 44 BC when, without official permission, he appropriated the annual tribute that had been sent from Rome's Near Eastern province to Italy."
Last but not least, all those concerns about the "deep state", and all those uncanny conspiracy theories promoted mostly by folks who are the most likely to be hurt by, and least likely to benefit from Trump's authoritarian ambitions: "Many of the political subtleties […] seem to have evaded the comprehension of the Plebeian class, who were Augustus' greatest supporters and clientele. This caused them to insist upon Augustus' participation in imperial affairs from time to time. Augustus failed to stand for election as consul in 22 BC, and fears arose once again that he was being forced from power by the aristocratic Senate."
So there you have it: when the people believe that a dictator protects them against their own representative government, when the people believe that the dictator is above the law, when the people believe that the dictator has legitimate powers to appropriate public funds, democracy is under an existential threat.