I often advise my clients that although automation is great, it must be accompanied by well-tested fallback procedures and training, to ensure that they can continue operations even when systems fail. This is especially important in the case of life-critical applications or, for that matter, in applications related to major centers transportation and infrastructure centers.
Today, there was a perfect example that took place at Gatwick Airport in London. Due to a problem with an underground cable, their flight information system failed. That meant no more functioning displays showing departure times and gate numbers. Yet the airport was able to continue operations with no cancellations or delays, and with very few passengers missing connecting flights.
How? Why, they used whiteboards.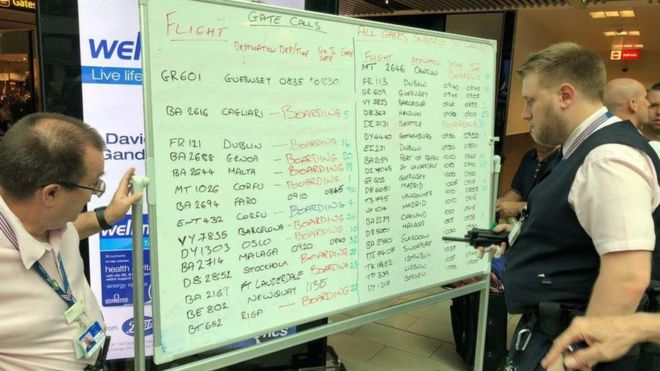 Yes. Whiteboards, maintained by officials carrying walkie-talkies.
Now here is the thing. Although the scenes were described as "chaotic" by some, reality was the exact opposite. To quote a spokesperson: "The airport's manual contingency plan – which included displaying information manually in the terminals and having extra staff on hand to help direct passengers – worked well and tens of thousands of passengers departed on time and no flights were cancelled."
This is exactly what "business continuity" means. I hope that the person at Gatwick who insisted that such plans must be in place and ensured that not just whiteboards, walkie-talkies and markers but also adequately trained personnel were available when needed, will get not just a commendation but a nice raise.