Our townhouse was built in 1981 or 1982. It came with a washer and a drier installed. When we moved in, just over 20 years ago, those machines were already nearly 15 years old, but still working flawlessly.
Many years later, the washer developed a problem: A pressure regulator valve in it failed. A technician temporarily fixed it by bypassing the valve and just turning the shutoff valve to reduce the pressure. He didn't even charge us for this work; he said he'd be back once he had a chance to order the right replacement part. He never did, and as he was one of several technicians I called from the Yellow Pages that evening, I could not even remember who he was. So I never got a chance to thank, not to mention pay, him for his labor.
The temporary solution then became permanent. The washer worked well for many more years. Until Saturday morning. Just as my wife, on her way to a craft show, was trying to wash a few freshly knitted hats, the washer refused to spin and refused to drain the tub.
I was somewhat hopeful that the cause was just a bad interlock switch, which is designed to prevent the washer from operating with the lid open. This switch stopped functioning a while back; the washer ran always, lid or no lid. But who knows, perhaps now the switch failed in the open position? I opened up the old beast, located and removed the switch and bypassed it.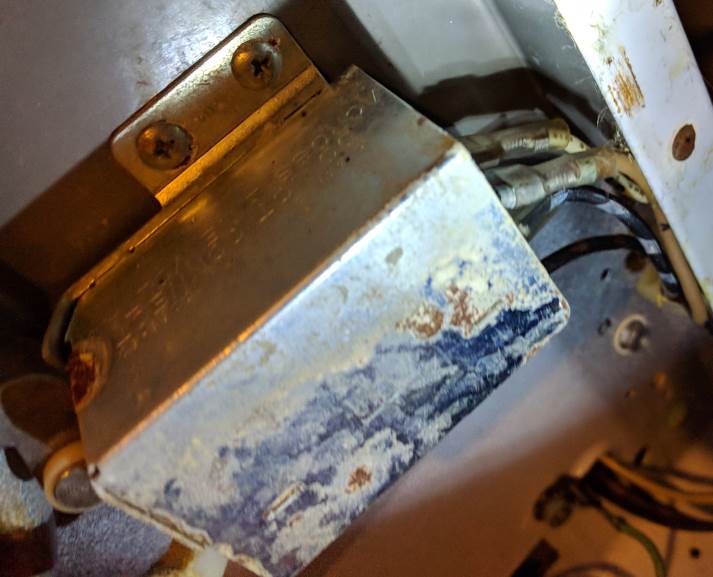 It could have worked. In fact, it almost did. With the switch bypassed, the washer was no longer completely silent when it was in the spin/drain position. The motor buzzed.
But only buzzed. That angry, 60 Hz buzz that you hear when a motor is seized. And sure enough, after about 15 seconds I began to smell, and then see, acrid smoke.
This was the moment when I knew that after a remarkable 35-year run, this old White–Westinghouse washer had its last wash. It was, unfortunately, finished.
So then came the annoying task of having to find a new washer. Fortunately, I was prepared, as I already contemplated the possibility that our old washer might die (35 years!) Lately, I stumbled upon a brand: Speed Queen. It appears that they mostly make commercial washers, for laundromats and other commercial installations. But they do have a few home models.
Oh, they are pricey. More than two and a half times as expensive as the cheapest washer that you can find. Still… based on the reviews I read, I thought that it might be worth the price. When I make a purchase, I either buy cheap (and then I know that I am buying cheap) or buy quality. Now quality is not always available. And often, reputable brand names turn out to be just pretty labels attached to the same cheap, er, excrement that is sold under other names at half the price.
So Sunday, we went to see this washer in person, at a local appliance store that carries the brand. The comparison was convincing. The weight difference alone between the Speed Queen and other washers was revealing. And of course it was a top loader with mechanical controls, a rarity nowadays, but the kind of machine that is precisely my wife's preference when washing freshly made wool hats, mittens and such in her own special way.
So we opted to buy the Speed Queen, and it was delivered earlier today. Installation was my job. It's not very hard; you hook up the hot and cold water, install the drain hose, level the machine and power it up. It powered up nicely, and the first test wash went like a charm.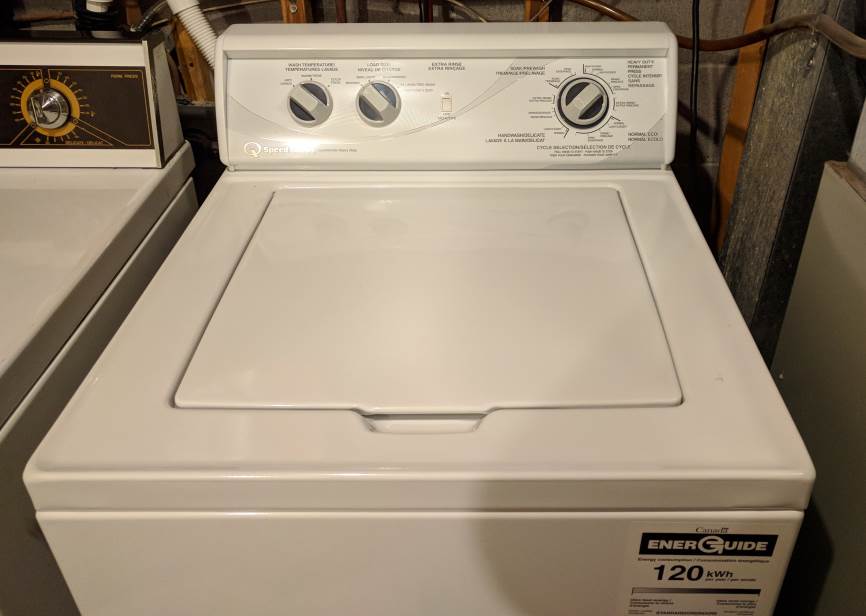 So here we are, with a brand new, yet very conventional, high quality washer installed right next to a 35-year old clothes drier that still works reliably, and now that I cleaned it, looks almost new.
What can I say… apart from the damage to my wallet, it was a fun day. I am glad it happened now, not a few weeks ago when I was struggling to meet some deadlines, having freshly recovered from the flu.
Will this machine last 35 years? Who knows. But I certainly hope that we won't have to worry about buying another washer for a long time to come.
Oh, and the package contained an interesting surprise: An order sheet for the parts manual and service manual for this model. I think I will buy those. I hope the machine will never need repairs, but if it does and it's no longer under warranty, maybe I can fix it. Often the hardest bit is knowing what to do, and that's where a factory service manual can be of immense help.