In my copious amounts of free time (yeah, right) I've been playing with the second installment in the Metro 2033 game franchise, Metro Last Light. Like its predecessor, it is set in (or mostly, under) post-apocalyptic Moscow, in what remains of the tunnels of the Moscow Metro, with stations acting as city states, and the protagonist fighting mutants, aliens and human enemies alike.
My only complaint about these games is that the gameplay is very linear: you just advance the story, your actions do not alter it in any meaningful way, apart from contributing to the choice of ending that is shown after the final battle.
But the atmosphere of the game is brilliant. Brilliantly dark, that is. And the game is beautifully crafted.
Here is one example: midway through the game, you find yourself in a station named Venice, so called because it is half-flooded. (Or was it the station under the Bolshoi Theatre? Not sure.) As you wonder around, you encounter… a shadow play artist, entertaining a small group of children, showing shadows, some of which are quite recognizable as the monsters of the game.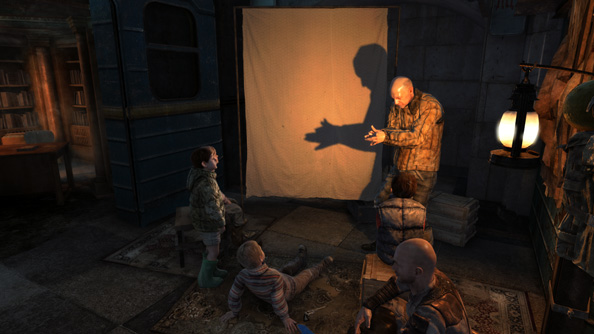 This character plays no role in the story. You do not interact with it. It does not advance the game in any which way. It's just… there. Because… well, what would a post-apocalyptic subway station be like without a shadow play artist?
It was when I encountered this scene that I became fully hooked by the atmosphere of the Metro games. This is no more just entertainment… this is a form of art.