Increasingly it appears that a majority of Brits are opting to vote Leave in the "Brexit" referendum.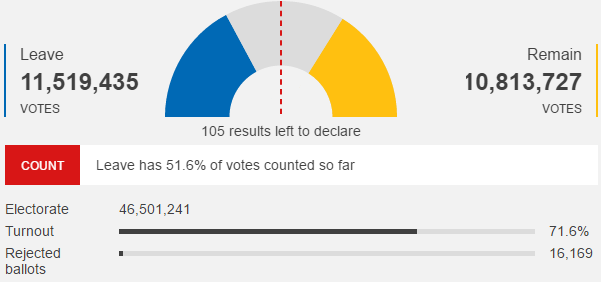 Sadly, this is what I was expecting to see, even though I was hoping to be proven wrong.
But populist xenophobia seems to have won the day. A rhetoric about foreigners taking over the country prevailed over the message of hope and unity. Fear of foreigners stealing jobs, corrupting schools, overwhelming the health care system, contributing to crime. And this combination of populism, isolationism and xenophobia has a name: fascism. Maybe a kinder, gentler, milder, 21st century version of fascism, but fascism nonetheless.
To be sure, I am not suggesting that anyone who voted Leave is a fascist. Of course not. But what tipped the balance, in my reading, is the populist rhetoric: promises to restore past glories through scapegoating and economic/political isolationism.
In the end, none of that will happen, of course. I expect that the immediate impact of the Brexit vote on the world economy will be grave; the long-term impact on Europe, even worse, and the UK economy will tank. (The pound is tanking already). On the political side, the Brexit vote may trigger a chain reaction in Scotland and Northern Ireland. And on the old Continent, this may be the beginning of the end of this grand experiment of uniting people from the Atlantic coast to the Russian border. What can I say… it was a nice dream while it lasted.
And, I suspect, future historians will mark this day as the historic beginning of a process that may yet culminate in another European war in the decades to come. I am sure the Kremlin is celebrating tonight… but Russia may not come out of this as a winner, as geopolitics is no longer a zero sum game, if it ever was.
For now, North America remains an island of stability. But that may not be for long. This continent also produced its homebrew 21st century neo-fascist in the person of Donald Trump. And Trump has a better than average chance of winning the election this coming November.
Tonight is one of those nights when I am really glad that we have no children. Both of us in our fifties, we can afford to sit back and just spectate as the inevitable train wreck unfolds. It is still a devastating sight, but on account of our age, and the fact that we live in Canada, we are among those least likely to suffer the consequences.
Still… I desperately hope that I am misreading things, that my gloomy reading of the events is badly misguided. Maybe Europe will find a way to improve its unity after the British fiasco. Maybe the UK will find a way to strengthen its ties with the rest of the English speaking world. Maybe the economic shock will be short-lived and there will not be another Scottish referendum, much less one in Northern Ireland. Maybe.
But I wouldn't bet any of our hard-earned savings on any of these maybes.