Meet MJ, a neighborhood cat. (Before we learned his name, we called him Pajamas, because of the night attire like appearance of his coat.)
MJ is a famous cat; he even shows up, along with his buddy Misty, on a Google Street View frame.
We've known MJ for a decade. He's a lovely cat. He also likes to explore the neighborhood… even though he lives on the other side of a wider neighborhood street, he regularly appears at our doorstep late evenings, saying hello, sometimes begging for some food.
We haven't seen MJ since October. He always disappears for the winter months; our guess is that his owners keep him indoors, or perhaps he just doesn't feel like roaming too far in the dark, icy cold of an Ottawa winter.
But this morning, walking by MJ's house, I spotted him: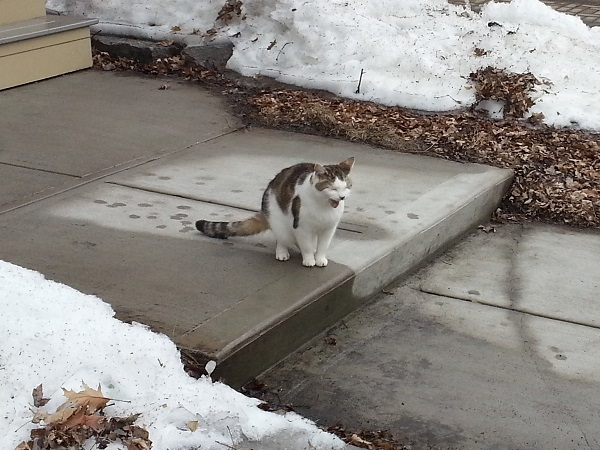 Yay! This is the surest sign yet that spring may happen this year, despite all the snow and ice that still surrounds us. I just hope I'll soon spot Misty, too. I asked MJ about his buddy, but he wouldn't say. Hope Misty is okay.