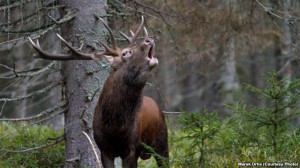 According to Radio Free Europe, there are some remarkably law-abiding deer living along the one-time Cold War border between the former West Germany and Czechoslovakia.
The border (barbed wire, complete with electric fences, heavily armed guards, watchtowers and whatnot) is long gone. Yet the deer are still reluctant to cross, and this behavior is passed on from one generation to the next.
Remarkable. I am sure it would meet the approval of those comrades who came up with the idea in the first place that the primary purpose of a nation's borders is not to keep enemies out, but to keep their own reluctant citizens confined inside.