My wife took the #7 bus yesterday on her way home from the Byward Market.
The bus had to take a detour, due to the ongoing construction on Rideau street.
Then it had to take a further detour, perhaps due to the construction, maybe some other reason (an accident?)
When I spoke to her, the bus was standing still on Chapel street, heading in the wrong direction.
Some 20 minutes later, when the bus was already on Laurier, I turned on continuous GPS tracking of her phone. Tracking information was collected roughly every minute.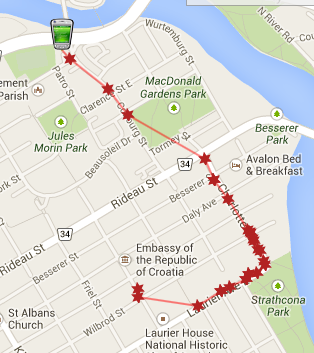 All in all, it took her approximately 45 minutes to get home from the intersection of Chapel and Wilbrod streets.
According to Google Maps, the distance is 950 meters on foot, and it would have take 12 minutes to get home walking. Unfortunately, she had some heavy bags with her so walking was not really an option. Although, had she known what was about to happen, she could have gotten off the bus at Besserer and Chapel, only a 700 meter walk from home.
Construction season is so much fun.