You know, I am beginning to sympathize with all those Trumpists, Fake News afficionados, anti-vaxxers, flat Earthers and the like.
The other day, I commented on a post concerning the 34 Ottawa area pharmacies that are designated as AstraZeneca vaccination sites by Doug Ford's government.
I disagreed that this was a political decision, despite the fact that I didn't vote for Mr. Ford, and that, in fact, I voted for the MPP in question who raised this issue in the first place. I suggested that we should leave such hyperpartisan politicking to our American friends. Last but not least, I was able to find some mapping data from StatCan and from a Twitter post (which I can no longer find — thanks for nothing, Facebook!) that, when overlaid, showed that the vaccination sites roughly correspond to the population density map of the Ottawa region.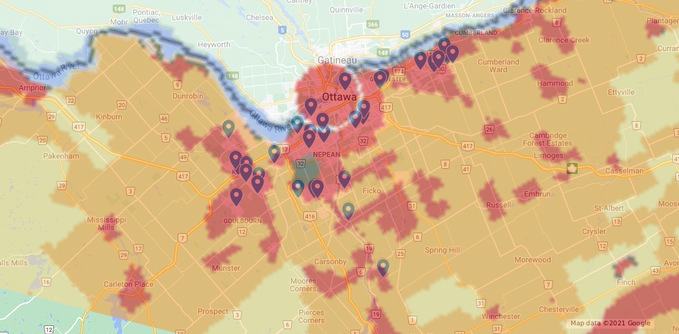 Facebook, unfortunately, concluded that my post goes against their community guidelines as spam, despite the fact that (I swear!) I was not trying to sell any Russian brides, fake PPE, dubious cryptocurrency investment schemes, or steal anyone's social insurance number.
None of it ever stopped Facebook from delivering Trumpist garbage, genuine Fake News, anti-vaxxer nonsense, even flat Earth propaganda to my account.
So dear Facebook… You played an instrumental part in turning America into a lunatic asylum, you played an instrumental part in helping the January 6 insurrection happen, you continue to play an instrumental part in radicalizing America and the world, you continue to let Putin's trolls and China's agents provocateurs own you, not to mention losing the personal data of more than 500 million of us… but you censor my post as spam because of your broken algorithms? Forgive the strong language but please, just fuck off.
I wonder if this blog post survives on Facebook or gets censored as well…